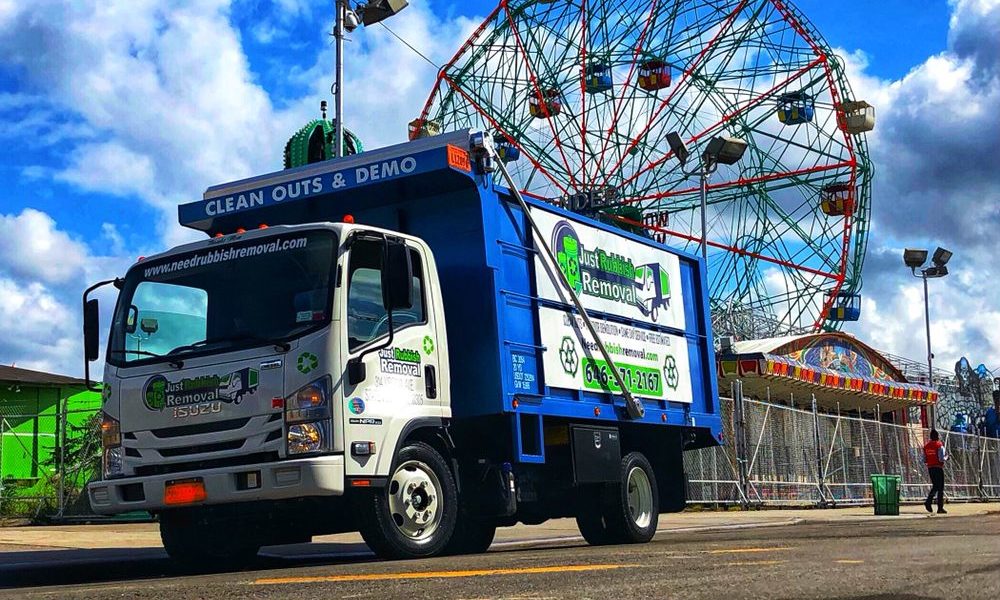 Removal of Your Junk in New York and Surrounding Areas
Are you getting ready for a big move? Perhaps your kids have all moved out, and it is time to downsize. Is your office needing a major cleanout? No matter the reason for the junk, Just Rubbish is in the removal business and will take the rubbish out for you.
Declutter, Clean Out and Lighten the Load with Just Rubbish

Junk Removal in Brooklyn, Queens, Bronx, Manhattan, and Staten Island.
The helpers at Just Rubbish are here to haul away all that you do not want anymore. We haul away the trash, clutter, junk, debris, and even furniture. You name it, and we'll take it. Our junk removal provides a fast way to deal with all you aren't sure where to put.
The New York team knows just what to do with each piece you hand over. We will trash, recycle, and even donate just about anything from your office, home, estate, or yard. Need us to empty the attic or the basement? We can do that too. What's more, we dispose of the items appropriately and responsibly.
We Make Junk Removal Easy in New York
Doing our part to help homeowners and businesses clean out and declutter, we are proud to say we make the process easy for New York people. Do you know where the dump is? Perhaps you don't own a truck large enough to haul away that sectional sofa. What about that enormous pile of yard trimmings you just made? How are you going to get rid of all that junk? The good news is, you don't have to. Just Rubbish will handle the removal and disposal of most anything.
We guarantee fast, expedient service and same-day bookings at no additional charge.
That's a deal you can count on. Because let's face it, when you are ready to dump it, you want it gone the same day or the next at the least.
Here are just a few of the items we have removed over the years.
Appliances

Furniture

Mattresses

Hot tubs

Fences

Yard debris and more.

Recycling Your Junk
With Just Rubbish, you can count on our team to dispose of your rubbish in the proper way, which includes recycling. And we fully respect the environment and the need for cleanliness in the New York area. New Yorkers know we do not need to add any more to our local landfills.
Donating Your Junk
Ready for a room remodel, but the furniture is still in good condition? Needing a good home for an older table or media center? Have a closet full of clothes from that significant weight loss or style change? Better yet, are you ready to get rid of that 50-inch TV to upgrade to an 80-inch but have no one to give it to?
We get it. Sometimes things are in excellent condition, but they are just not needed in your home anymore. Just Rubbish can take those items and donate them to the charity of your choosing or figure the donation out with a charity we work with. We don't want usable items to add to the landfill either.
You can trust Just Rubbish to remove gently used items and take them to a donation site.

Is Clutter Affecting Your Mental Health?
Believe it or not, clutter can actually be a negative influence on your mental health. If your closets are full of clothes you never wear, or your kitchen cabinets need to be closed with finesse, you may need clutter removal. When your garage door must remain closed, and your attic is full of junk, you may need clutter removal. Or, maybe your home office looks more like a paper recycling factory, you definitely need clutter removal.
According to WebMD, "Mess equals stress."
We have seen it time and time again. People are relieved to have us come and remove that stress mess. Because when everything is in its place, stress begins to lower. And, when it is a struggle to get out the door and find all you need to take with you, anxiety rises.
Not to mention, stress is proven to increase the hormone cortisol. That is not good for anyone. And the older you get, the more settled in you become with your clutter.
Clutter makes it hard to focus on the task at hand, increases the tendency towards allergies, and increases the tendency for slip and falls in the home. A cluttered home or office can even lead to memory problems. No one wants that!
Additionally, according to Web MD, the clutter is linked to weight gain and sleeplessness. There are just too many negative results from a messy home. Get that clutter under control by contacting the friendly staff at Just Rubbish to clear it out for you.
Spring Cleaning
We have had clients schedule a pickup in advance to encourage themselves to complete a spring cleaning. It's a rather genius idea if you think about it. What's more, the deadline gives you a goal to work to achieve. And when the spring cleaning is complete, you won't have to figure out what to do with all of the junk.
For spring cleaning ideas, please take a look at our Tips for Spring Cleaning.

Junk Removal Services
There are several scenarios in which junk removal is necessary. We are happy to help with any or all of them. You see, all you have to do is let us know when and where, and we will be there for you. Here are just a sample of the places our clients find "junk."
We will clean out attics.

Basements that are being repurposed.

Garages that need a good cleanout.

When moving, there are things you don't want to take.

If downsizing and you simply have too much.

Upgrading to a new style, but the old is in good condition.

College students heading to college.

Students returning from college.

Spring clear out of the back yard.

After a big storm and the yard is a mess.

Estate clean out and liquidation.

Hoarder homes.

Fence replacements.
We could go on, but why? You get the deal. We have seen just about every situation, and we can help.
NYC Trusts the Safe and Environmentally Conscientious Junk Removal of Just Rubbish Junk Removal.
You can trust them too. The team at Just Rubbish will be careful and courteous in your home and remove items with precision.
If you need help removing junk, rubbish, trash, or donatable items, don't get overwhelmed wondering where to put it all. We'll take care of that for you.
Contact Just Rubbish for an estimate on your junk removal job today.