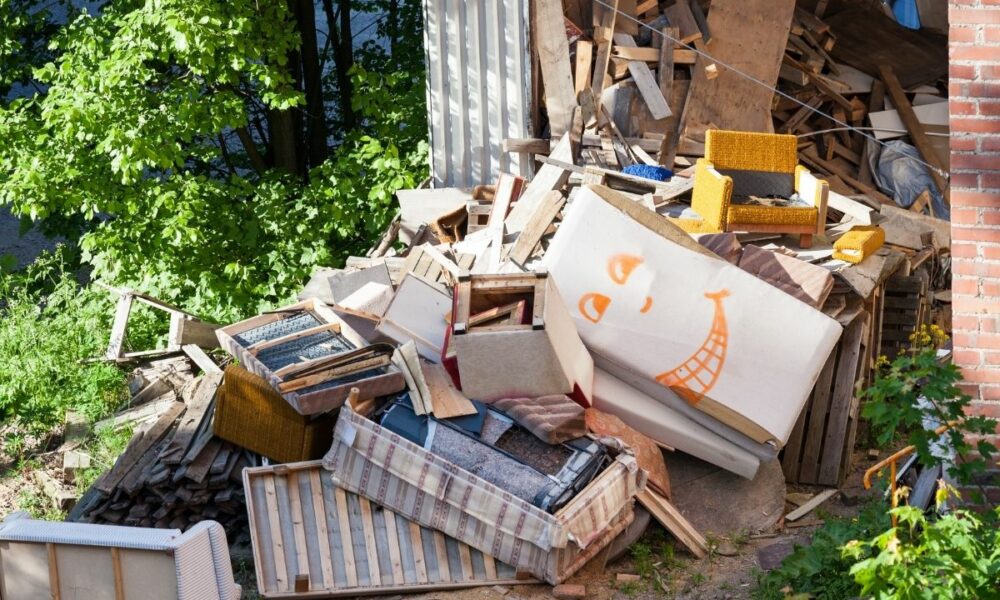 Junk Removal is Important, and Just Rubbish Can Help Establish a Cleaner Tomorrow
Is junk removal important, you ask? It sure is. Whether you are a landlord with leftover junk to clean from homes or a construction team with construction waste, you need junk removal. But that doesn't really answer why now, does it?
In the following article, we would like to convince you of the local and global impact garbage has negatively and positively. So, let's put on our environmental concern hat and get thinking about removing some junk.
Junk Removal is Important Locally
There is no doubt junk can be a hazard when it accumulates in a home or the city's public areas. Both have a significant impact on the community.
In a Home
No one sets out to purposely have a ton of junk in their home. But as time goes on, we accumulate things that need to be replaced or trashed. For instance, here is a list of things you may not consider junk until it is…
A broken appliance, and the packaging material for the new one.
The old sink, shower tiles, and commode from your brand-new remodel of the master bath.
All your kitchen cabinets, now in pieces and ready to be replaced.
The old flooring is finally getting replaced.
That magazine collection you are no longer passionate about.
Worn out and broken toys from years of siblings, love, and playtime.
Boxes of stored memories are now digitized and ready to rediscover.
See? You don't have to be a hoarder to have an accumulation of junk. And good for you for wanting to dispose of the trash responsibly. On the other hand, if you know someone who is, in fact, a hoarder, we can help there as well.
In a Yard
The back yard can be a considerable burden to clear out for some. And it really needs to be kept clutter-free. In New York, as well as other areas, the accumulation of junk attracts vermin. Piles make perfect places for those awful critters to hide and soil your yard. No one wants that. Perhaps you are familiar with one of the following or more.
An old swing set now rusted over.
The remnants of the backyard shed, now taken apart.
A fence that had fallen and is now replaced.
A large brush rake-out from the dead winter grasses or the overgrown hedge.
That dead tree needed to come down, but what do you do with it now?
We could go on for a while here, but you get the drift. Piled up and cluttered backyards host vermin and potentially dangerous materials. Get them cleaned out and thrown away with junk removal.

In the Public Areas of Your Town
Space is a big concern in the metropolitan area of the country. Preserving it is a goal of officials and residents alike. But when we allow clutter to dominate our free land, we create hazards. Not only does it take up space that could be otherwise allocated, but it inhibits free movement from one area to another.
Junkyards and junk piles not managed can harbor sharp objects, rusty metals, leaking chemicals, and infected waste. When those piles can sit, they attract vermin that then contract and spread disease. If you have an area beginning to pose a health hazard in your community, call on a junk removal company to remove the pile and clean the place up. You owe it to your community to keep the area safe for our future generations.
Global Concern
As the rise for a cleaner world environment grows, the industry of recycling gains popularity and size. Advances in technology worldwide have helped what once would have been taken to a landfill to be masterfully made into something new. Businesses overall have joined in to decrease their impact on the accumulation of waste in the following industries and more.
Restaurants are donating, recycling, and composting more than ever.
Hotels are offering recycling trash cans in hallways and rooms.
Construction companies are hiring recyclers to take what they see as useable.
Churches and clubs are donating to reuse clothing, furniture, and other gently used items for those in need.
If we all got on board and donated, recycled, and reduced our impact on today's trash, tomorrow would be a much cleaner world. Just Rubbish Junk Removal is a part of that move toward a brighter future for all.
Additionally, educating yourself can be essential for a cleaner tomorrow. According to the EPA, you can
learn what the EPA does to regulate and reduce wastes under the Resource Conservation and Recovery Act (RCRA), and to help clean up when wastes or harmful substances pollute the land we live on.
Environmental Concern
There are things we need to throw away that can have a destructive impact on the environment. Used oil stored in old and rusting cans can leak into the water source underground. Old cleaning fluids and harsh chemicals will ruin the regrowth potential for an area. And, of course, biohazardous waste from medical supplies can harm us for future generations.
Any item placed in a landfill these days should be able to be naturally broken down and beneficial to the land it is covered with. Our land in America is getting smaller and smaller as we inhabit all the livable space. Destroying our land is not how responsible humans take care of the planet.
A professional knows how and where to dispose of these things in a safe and environmentally responsible manner. That is a great reason why proper junk removal is important.

Recycling Junk Removal Is Important
If you are a homeowner, your local government has a designated recycling center that will either pick up your recycling, or you can take it there with ease. Cities have even established specific colored trash cans to pick up your recycling, so the process is easier for the homeowner.
There is almost always a designated dumpster or recycling removal system for you to quickly access in rentals or multi-unit buildings. Apparently, there is no excuse not to recycle. And if you cannot locate any of these, you can always call on a junk removal company to come and get the rubbish for you.
Traditional Recycling
Just as it says, traditional recycling is what you see every day. Separating paper, glass, and plastics is relatively easy today. But there are occasions where junk removal companies can recycle large amounts, so you don't have to.
For instance, that Uncle who kept every newspaper since he could read is ready to be cleaned out. We can take it. Or maybe your friend had a floral business and is retiring now. We can recycle all the old glass vases for her. Perhaps your kids have outgrown that giant wooden playset in the backyard. We know you want to reclaim your yard, and we can take it away for you.
There are many quirky and real instances of large and small recycling jobs we see every day. Call on a rubbish removal company for the big jobs and the small.
Donation Recycling
Several items can be donated. You know the saying…
One man's trash is another man's treasure.
It is so true. Not seeing it? Here are some practical examples.
So, you've lost a lot of weight. Way to go! Now, get those clothes out of your closet and into the hands of someone who needs them.
Trash to treasure? Yes, a piece of broken furniture can be repaired, stripped-down, reupholstered, and even turned into a work of art.
Done with the "artist phase" you went through? Donate those supplies to a school or a shelter.
Arthritis has set in those hands, and it is just not worth trying to sew any more? Perhaps a young person would like to take up the passion for sewing and just needs the right tools.
Again, we could list more and more things that may be just to one but are a blessing to another. All you have to do is make a stack of those things and give your local junk removal company a call. We will take those items to the appropriate place for a whole new life.

Junk Removal Is Important for a Cleaner Tomorrow
It seems the consumer hustling world is turning to a more conscientious set of humans with more consideration for the planet and the people within our communities. That can only be a good thing. Really, if we all do our part to keep junk and clutter in the right places, the world will be cleaner and more disease and germ-free. Doing your part not only frees your space from the mess, but responsible removal helps those around us and for generations to come.
Take part in a cleaner tomorrow for everyone you love and those you are yet to meet. Call on a professional junk removal company in your area. If you happen to be in the New York and surrounding areas, contact Just Rubbish Junk Removal.
Junk removal is important. Let's focus on a better day!