The Borough of Rutherford is an ideal place to live. With the past years of development and growth, people love to visit Rutherford, New Jersey. But can you imagine if all the things you have thrown out in the past years were lining our streets? Well, without teams like Just Rubbish Junk Removal, that is precisely what would happen. Just Rubbish Removal is here for all your junk removal needs.
And whether you are a business or a resident of Rutherford, we can help clear the clutter and get the trash where it belongs… out of your place.
Does your restaurant need dumpster service? Just Rubbish will take care of it.
Hotel needing container and dumpster clean out? We've got you covered.
The good news is, you can call Just Rubbish to deliver and remove a dumpster for your big event. Allow Just Rubbish Junk Removal to take care of the big dumpsters for you no matter the reason for the clean-up.
The Top Container Delivery Service in Rutherford
Just Rubbish Junk Removal is more than just junk removal. We are a premier New Jersey waste removal company providing roll-off containers and dumpster rentals at affordable rates. Our dedicated customer support team ensures that any dumpster rental is conveniently suited to meet your exact needs, along with expert care and hassle-free scheduling.
Just Rubbish offers dumpster container rental for the following and more.
Residential Projects
Home Improvement
Renovation Projects
Estate Cleanouts
Moving
Storm Repairs and Clean-up
Dirt Removal
And More!
Contractors
Renovation and Demolition
Drywall Projects
Plumbing Work
Flooring Removal and Replacement
Siding Replacement
And More!
Commercial Projects
Office Remodeling Projects
Parking Lot or Sidewalk Replacement
Disposal Services
Waste Management
Construction Debris Collection
And More!
Call for pricing or questions regarding container size for your project.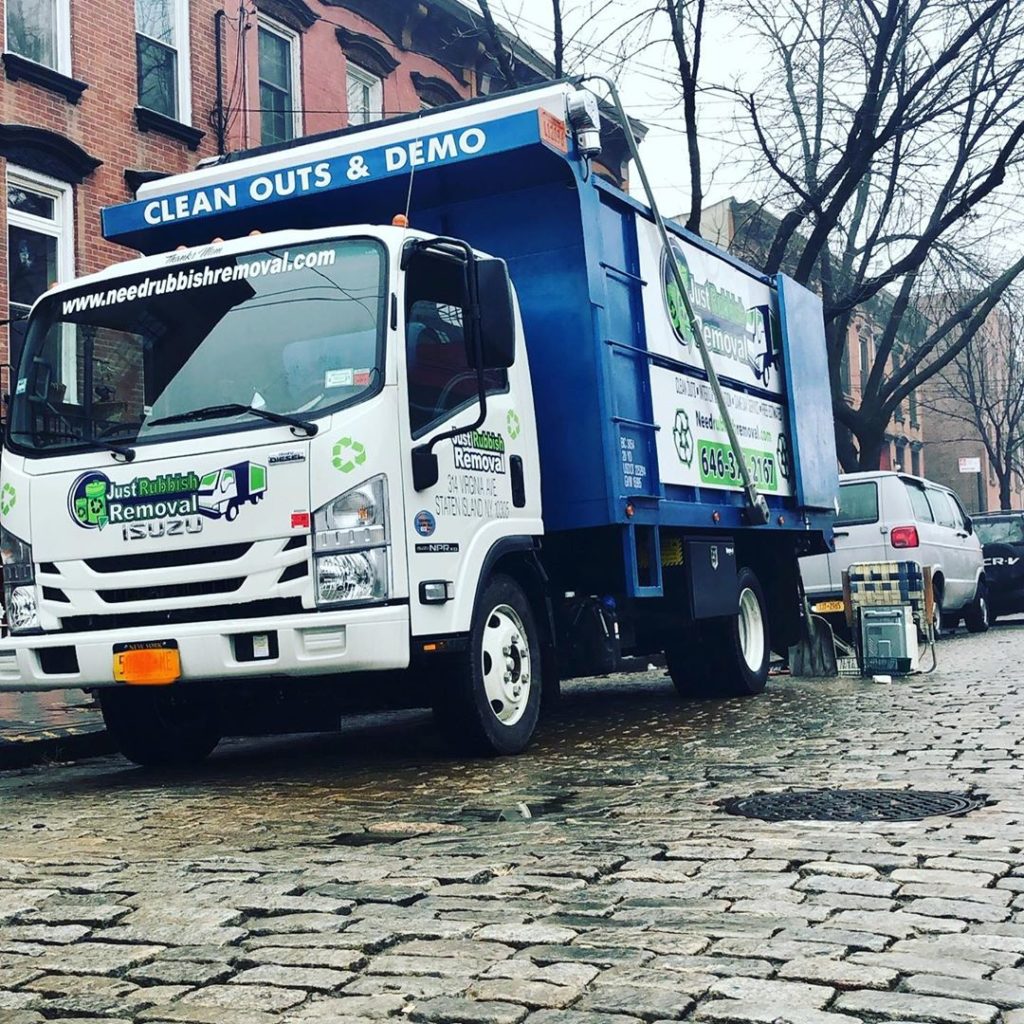 For Home Clean Out in Rutherford, Call on Just Rubbish Removal
If you do not own a truck, getting rid of the excess and old things can be challenging. How will you eliminate all that junk from the house, the attic, the basement, and the storage unit? No sweat! Just RubbishRemoval will handle the removal and disposal of the things you don't or can't take away.
We guarantee fast, reasonable service and same-day bookings at no additional charge. Because when you are ready to dump it, you want it gone right away so you can move on to bigger and better things.
Does your home need a haul-away of any of these items?
Broken or Old Appliances
Unwanted Furniture
Beat Up Mattresses
Cracked Hot tubs
Warped Fences
Piles of yard debris and more
Why don't you give Just Rubbish a call and see if we will take it? In most cases, we will.
Recycling or Donating Your Junk
The Just Rubbish Removal team respects the environment and the need for cleanliness in the Rutherford area. We do not need to add any more to our local landfills, and there are so many who could benefit from gently used items. With Just Rubbish, you can count on us to dispose of things you do not want in the proper way, which includes recycling and donating.
There is no job too big or too small for the team at Just Rubbish in Rutherford. What's more, Rutherford counts on Safe and Environmentally Conscientious Junk Removal with Just Rubbish Removal.
Should your home or office need the removal of junk or rubbish, we'll take care of removing, recycling, and donating for you. All you have to do is click!
Contact Just Rubbish for an estimate on your junk removal job today.