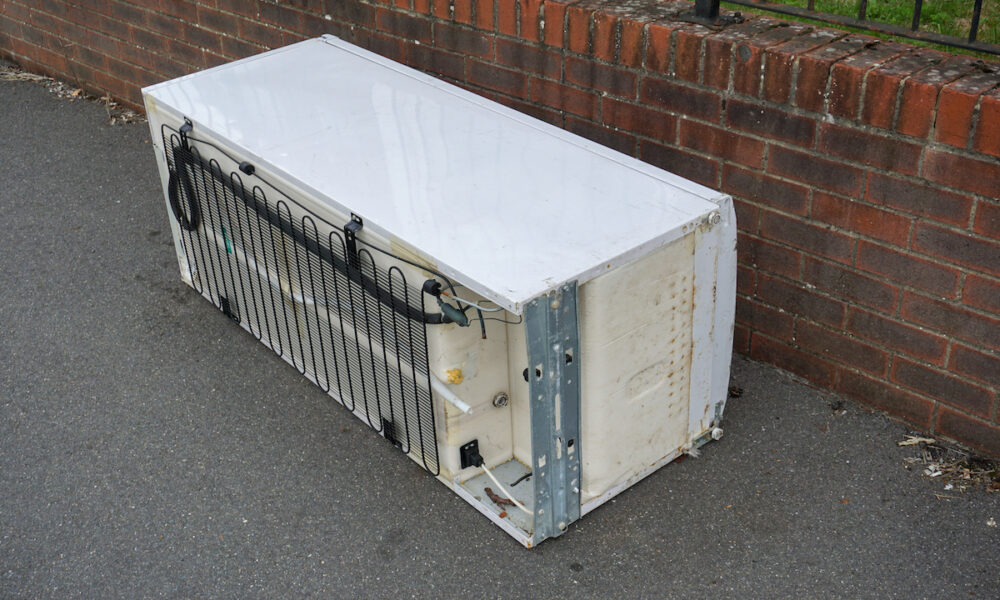 When it comes to upgrading your appliances or disposing of old and malfunctioning ones, the task can be daunting. Just Rubbish Removal is here to simplify the process with our dedicated appliance removal services.
In this blog, we'll explore the many challenges of appliance removal, how Just Rubbish Removal can play a role, and why choosing a professional service is the smart and hassle-free choice for homeowners and businesses alike.
Let's begin!
The Challenges of DIY Appliance Removal
When faced with the task of removing old appliances, the allure of a do-it-yourself (DIY) approach may seem tempting. However, several challenges lurk beneath the surface, emphasizing the importance of entrusting this task to professionals like Just Rubbish Removal.
Size and Weight: Maneuvering the Bulky Obstacles
One of the primary challenges DIY enthusiasts encounter is the sheer size and weight of appliances. Refrigerators, washing machines, and ovens are not just cumbersome; they are often heavy and unwieldy.
Attempting to move these sizable objects without the proper equipment and expertise can lead to personal injury and property damage. The risk of strained muscles, back injuries, and accidental collisions with walls or doorways is significantly heightened.
Just Rubbish Removal's team, trained in the art of appliance removal, understands the complexities of handling these heavy items and can ensure a safe and efficient process.
Environmental Impact: The Unseen Consequences
Another significant challenge arises in the environmental impact of DIY appliance disposal. Appliances often contain a myriad of materials, including metals, electronic components, and potentially hazardous substances. Improper disposal of these items can lead to pollution and harm ecosystems.
DIY disposal methods, such as dumping appliances in landfills, contribute to environmental degradation. Certain components may leach harmful substances into the soil, posing a threat to groundwater and wildlife.
Just Rubbish Removal recognizes the environmental responsibilities associated with appliance removal and employs eco-friendly disposal practices. By collaborating with recycling facilities and donation centers, we ensure that appliances are handled responsibly and minimize their impact on the environment.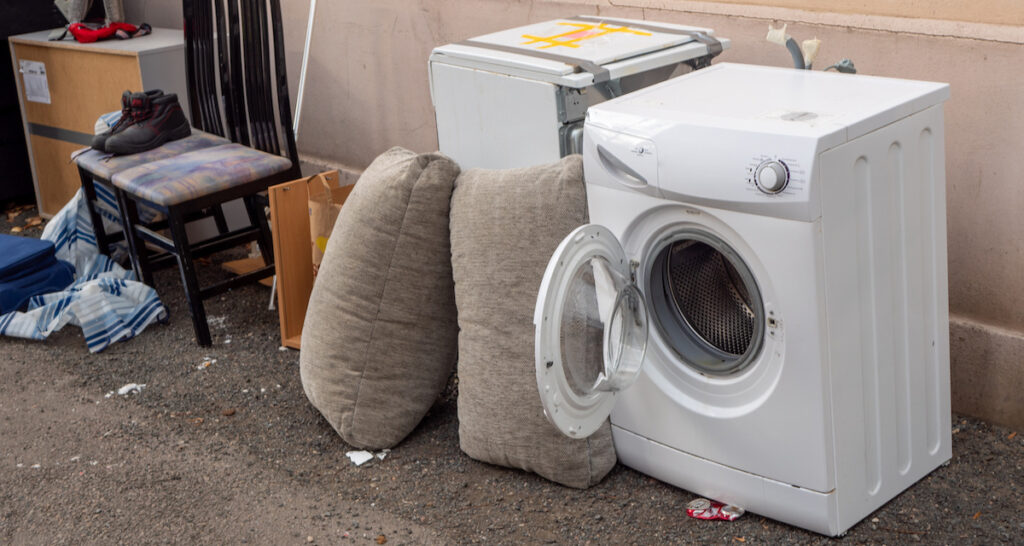 The Just Rubbish Removal Advantage
When it comes to appliance removal, the advantages offered by Just Rubbish Removal set us apart as the go-to solution for homeowners and businesses. Our all-in-one approach ensures a seamless and stress-free experience while taking care of the entire removal process every step of the way.
Professional Expertise
Just Rubbish Removal boasts a team of trained professionals with extensive expertise in appliance removal. We understand the intricacies of handling diverse appliances, from delicate electronics to bulky refrigerators.
Our seasoned experts assess each removal scenario and employ a strategic approach to ensure a smooth and risk-free process. Our professionals bring a level of expertise that guarantees a successful and efficient appliance removal experience, whether it's:
Disconnecting gas lines
Managing electrical components
Navigating through tight spaces
Specialized Equipment: Tools Tailored for the Task
Executing successful appliance removal requires more than just manpower; it demands specialized equipment designed for the job.
Just Rubbish Removal is equipped with state-of-the-art tools, including:
Heavy-duty dollies
Secure straps
Custom-designed trucks capable of transporting large appliances
This specialized equipment not only facilitates the safe handling of appliances but also streamlines the entire removal process. From maneuvering through tight spaces to securely transporting items, our tools are tailored to ensure the safety of your property and the efficiency of the removal operation.
Environmentally Friendly Disposal: Commitment to Sustainable Practices
At Just Rubbish Removal, we take pride in prioritizing environmentally friendly disposal practices. Because we recognize the ecological impact of getting rid of appliances incorrectly, we are committed to responsibly handling and recycling appliances.
Our team collaborates with recycling facilities and donation centers to divert appliances from landfills. This not only contributes to environmental sustainability but also aligns with the growing importance of eco-conscious practices.
By choosing our services, clients can:
Be confident that their old appliances will be disposed of in an environmentally responsible manner
Minimize their carbon footprint
Contribute to the circular economy
Convenience and Time-Saving: Redefining Removal Efficiency
Opting for Just Rubbish Removal means choosing unparalleled convenience and time-saving.
Appliance removal can be a complex and time-consuming task, especially for those attempting a DIY approach. Our services alleviate this burden by handling every aspect of the removal process. From scheduling the removal at a convenient time to executing the operation swiftly and efficiently, we prioritize our clients' time and peace of mind.
Homeowners and businesses can trust us to manage the entire process and spend their time focusing on more pressing matters without the hassle of a cumbersome removal task.
The Appliance Removal Process
Depending on your needs, our process for junk removal may vary. However, for the most part, you can expect to see these three steps throughout the appliance removal process.
1. Assessment and Scheduling
Our process begins with a thorough assessment of the appliances to be removed. Once the scope of the removal is determined, we work with our clients to schedule a convenient time for the service.
2. Safe and Efficient Removal
On the scheduled day, our team arrives with the necessary equipment to safely and efficiently remove the appliances. We take care to avoid any damage to the property and ensure a smooth process from start to finish.
3. Responsible Disposal and Recycling
After removal, we transport the appliances to designated facilities for responsible disposal and recycling. Any reusable items are directed to donation centers, contributing to community welfare.
Why Choose Professional Appliance Removal?
When it comes to disposing of old appliances, the choice between a do-it-yourself (DIY) approach and professional services is crucial. Just Rubbish Removal stands as the epitome of professional excellence, offering a range of compelling reasons to choose expertise over amateur efforts.
1. Safety First: Mitigating Risks
Professional appliance removal prioritizes safety, mitigating the inherent risks associated with handling heavy and unwieldy items. DIY attempts often lead to accidents, causing personal injuries or property damage.
Just Rubbish Removal's commitment to safety is reflected in our team's adherence to industry-standard protocols. Trained professionals with the requisite expertise ensure that each removal is conducted with precision and care, reducing the risk of accidents and ensuring the safety of both individuals and property.
2. Compliance with Regulations: Navigating Legal and Environmental Standards
Appliance disposal is subject to a myriad of regulations, encompassing legal and environmental standards. DIY disposal methods may inadvertently violate these regulations, leading to legal consequences and environmental harm.
Just Rubbish Removal guarantees compliance with all relevant regulations, ensuring that each removal adheres to legal requirements and environmental guidelines. Our professionals are well-versed in the proper disposal methods for different types of appliances, safeguarding our clients from potential legal ramifications and contributing to the overall well-being of the environment.
3. Efficiency and Speed: Swift Resolution of Removal Challenges
Professional appliance removal streamlines the entire process, offering efficiency and speed that DIY methods often lack. Our experienced team is ready and willing to handle various challenges that may arise during removal, from navigating tight spaces to dismantling components for secure transport.
The efficiency of our process ensures that appliances are removed swiftly, minimizing disruptions to your routine and allowing you to reclaim valuable space in your home or business premises promptly.
4. Cost-Effective Solutions: Avoiding Unforeseen Expenses
While a DIY approach might seem cost-effective on the surface, it often leads to unforeseen expenses. Potential damages to property or personal injuries can result in unexpected costs.
Just Rubbish Removal provides cost-effective solutions by eliminating the risks associated with amateur removal attempts. Our transparent pricing structure ensures that clients are aware of the costs upfront, avoiding surprise expenses and providing a clear understanding of the value our professional services bring to the table.
5. Environmentally Responsible Practices: Contributing to Sustainability
Choosing professional appliance removal aligns with environmentally responsible practices. Just Rubbish Removal is committed to minimizing environmental impact through proper disposal and recycling methods. Appliances often contain materials that can be harmful if not handled correctly, such as refrigerants or electronic components. Our eco-friendly approach involves collaborating with recycling facilities and donation centers, diverting appliances from landfills and contributing to a more sustainable future.
6. Customized Solutions: Tailored to Your Needs
Just Rubbish Removal understands that each removal scenario is unique. Our professionals offer customized solutions based on the specific requirements of your appliance removal.
Whether it's a bulky refrigerator, a complex oven, or an entire suite of appliances, our team tailors the approach to ensure a seamless and personalized removal experience that suits your needs and preferences.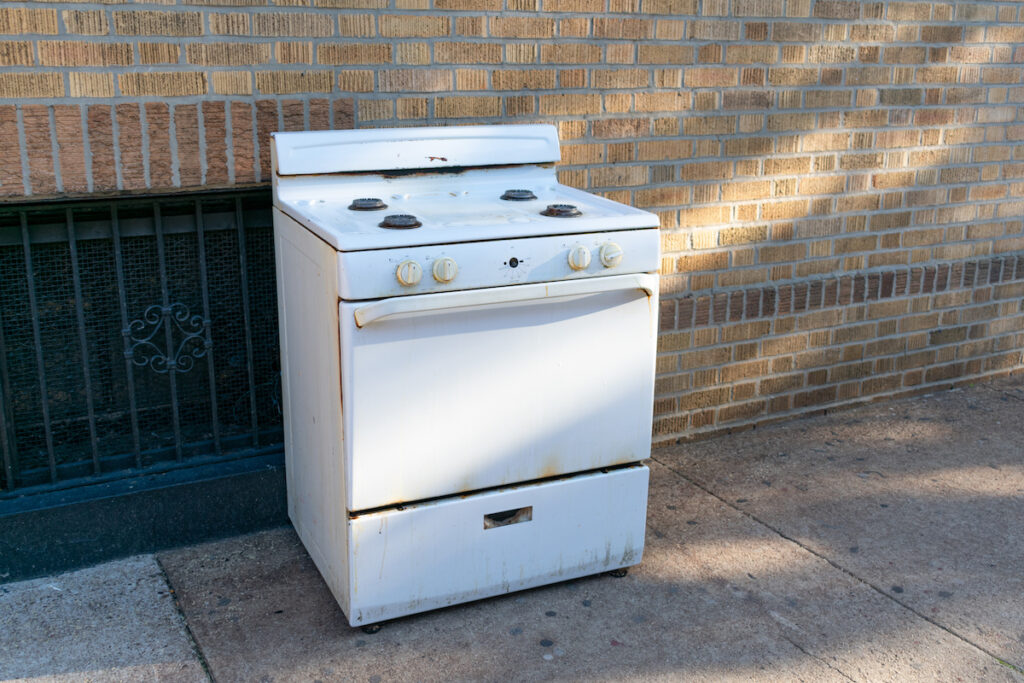 Need Appliance Removal? Just Rubbish Removal Has You Covered
When it comes to appliance removal, Just Rubbish Removal stands out as the trusted partner for homeowners and businesses. Our commitment to safety, environmental responsibility, and customer satisfaction makes us the go-to choice for hassle-free appliance removal.
We happily serve Brooklyn, NY; Bronx, NY; Staten Island, NY; Kings Country, NY; Manhattan, NY; and Richmond County, NY.
Contact us today and experience the convenience of professional appliance removal tailored to your needs!