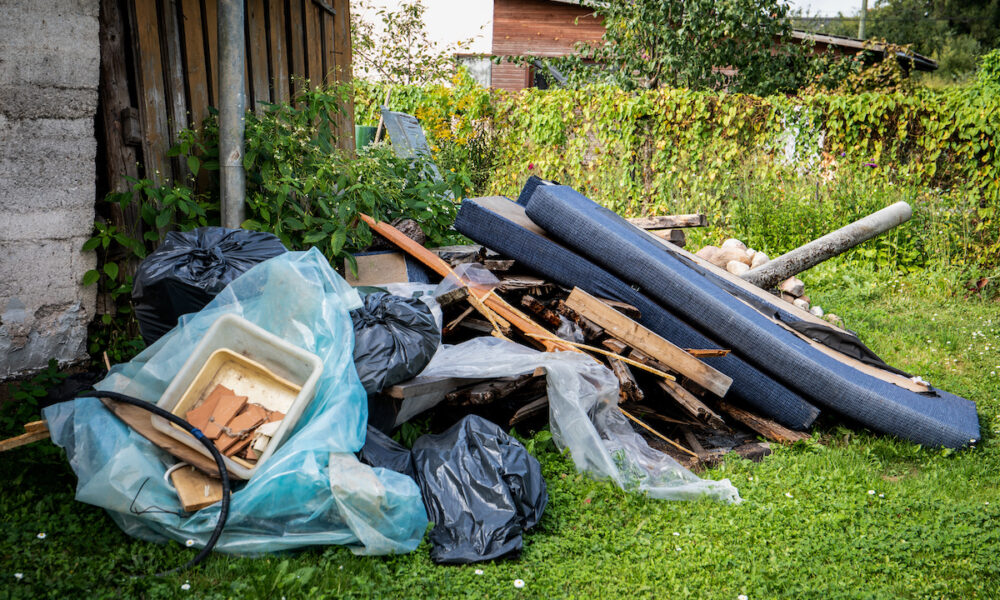 As summer comes to a close, many of us are faced with the task of yard waste removal.
Whether it's fallen leaves, pruned branches, overgrown grass, or other debris, keeping your outdoor space clean and well-maintained is essential not only for aesthetic reasons but also for the health of your garden and the environment.
In this comprehensive guide, we'll explore the importance of end-of-summer yard waste removal and provide you with practical tips and methods to make the process efficient and eco-friendly.
The Importance of End-of-Summer Yard Waste Removal
Clearing out yard waste at the end of summer is not just about aesthetics; it's about the health and longevity of your outdoor space.
Here are several reasons why it's crucial:
Preventing Pests: Yard waste, such as fallen leaves and dead vegetation, can become breeding grounds for pests like rodents and insects. Proper removal minimizes these potential infestations.
Maintaining Lawn Health: Overgrown grass and accumulated debris can smother your lawn, inhibiting its growth and overall health.
Preventing Disease: Diseased or decaying plant material left in your yard can lead to the spread of pathogens and fungal diseases to healthy plants.
Promoting New Growth: Pruning and removing dead branches and spent flowers allows your plants to divert energy towards new growth and flowering in the next growing season.
Fire Safety: In regions prone to wildfires, maintaining a clear and debris-free yard can reduce the risk of fire spreading to your property.
Environmental Benefits: Proper disposal of yard waste reduces the environmental impact of landfilling organic material and contributes to sustainable waste management practices.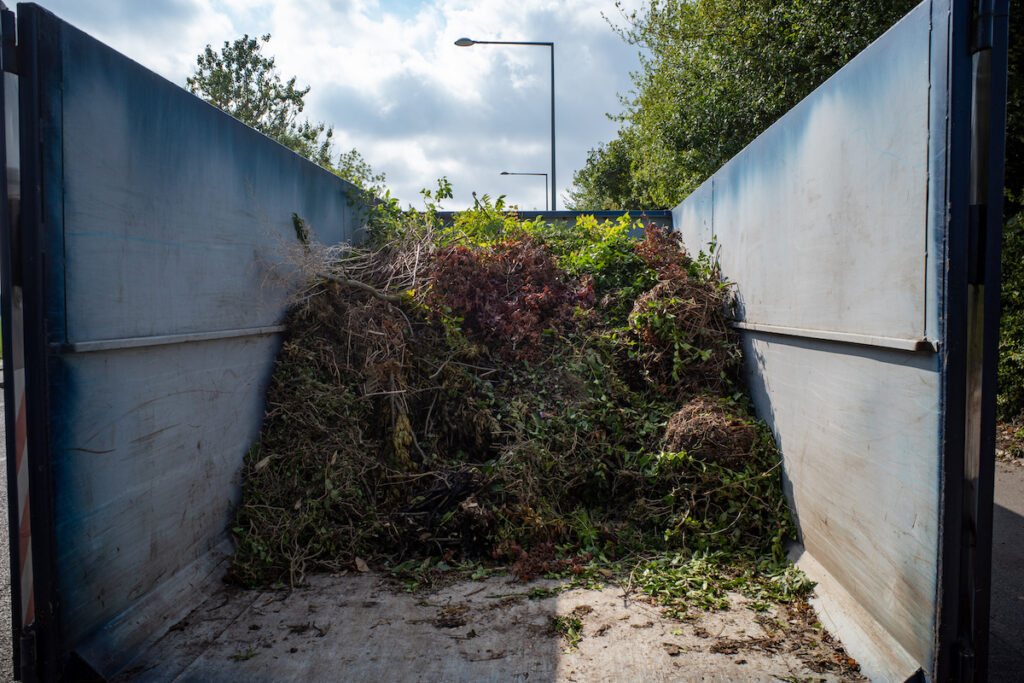 Tips for Efficient End-of-Summer Yard Waste Removal
Now that we understand the importance of end-of-summer yard waste removal, let's explore some practical tips to help you tackle this task effectively:
1. Start with a Plan
Before diving into yard work, create a clear plan of action. Assess your yard to identify the types and quantities of waste you need to remove. Decide on the disposal methods you'll use, whether it's composting, mulching, recycling, or municipal collection.
2. Gather the Right Tools
Having the proper tools and equipment on hand will make yard waste removal more efficient. Common tools for this task include:
Rakes and leaf blowers for gathering leaves and debris.
Pruners and loppers for cutting and pruning branches.
Lawn bags or containers for collecting and transporting waste.
Wheelbarrow or garden cart for hauling heavy materials.
Shredder or mulcher for processing branches and woody debris.
3. Separate and Sort Waste
To maximize recycling and reduce landfill waste, separate yard waste into categories:
Leaves and grass clippings: Ideal for composting.
Branches and woody debris: Can be chipped or mulched.
Non-organic debris: Such as plastics, metal, and glass should be removed and disposed of separately.
4. Compost Yard Waste
Composting is an eco-friendly way to manage organic yard waste like leaves, grass clippings, and small branches.
Compost enriches your garden soil and reduces the need for chemical fertilizers. Follow these tips for successful composting:
Maintain a proper balance of green (nitrogen-rich) and brown (carbon-rich) materials.
Turn the compost regularly to aerate it and facilitate decomposition.
Keep the compost pile moist but not waterlogged.
Avoid adding diseased or pest-infested plant material to the compost.
5. Mulch Woody Debris
Woody debris, such as branches and prunings, can be chipped or mulched to create valuable mulch for your garden beds. Mulch helps retain moisture, suppress weeds, and regulate soil temperature. Many municipalities offer chipping services or accept woody debris at composting facilities.
6. Contact Your Municipal Waste Department
Check with your local municipal waste department for information on yard waste collection and disposal services. Many municipalities offer curbside pickup of yard waste or have designated drop-off locations.
7. Utilize Recycling Programs
Some areas have recycling programs for yard waste, including leaves, grass clippings, and branches. These programs often turn yard waste into compost or mulch for public use. Contact your local recycling center to inquire about their yard waste recycling options.
8. Dispose of Non-Organic Debris Properly
Any non-organic debris, such as plastics, metal, or glass, should be separated and disposed of according to your local waste disposal guidelines. Ensure that these materials are recycled or discarded appropriately to reduce their environmental impact.
9. Take Safety Precautions
Yard work can be physically demanding, so it's essential to take safety precautions:
Wear appropriate protective gear, including gloves, safety glasses, and hearing protection.
Use caution when operating power tools like chainsaws or mulchers.
Stay hydrated and take breaks when needed to prevent overexertion.
10. Involve the Whole Family
Yard work can be a family activity. Involve your family members in the process, assigning age-appropriate tasks like raking leaves, gathering branches, or bagging debris. It's a great way to bond while completing a necessary chore.
11. Consider Hiring Professionals
For extensive yard waste removal, especially if it involves large trees or hazardous conditions, it may be wise to hire professional arborists or landscapers. They have the expertise, equipment, and safety measures to handle challenging jobs.
Benefits of Hiring a Just Rubbish Removal for Yard Waste Removal
Hiring a professional junk removal service, like Just Rubbish Removal, for yard waste removal offers several benefits, making it a convenient and efficient choice for homeowners. Here are the advantages of enlisting the services of professionals for your yard waste removal needs:
Convenience: Professional junk removal services handle all aspects of yard waste removal, from gathering and loading to transportation and disposal. This convenience means you can save time and energy, leaving the labor-intensive work to the experts.
Efficiency: Experienced professionals have the knowledge and equipment to efficiently remove yard waste. They can complete the job much faster than most homeowners, allowing you to reclaim your outdoor space promptly.
Proper Disposal: Junk removal services are well-versed in local regulations and environmental guidelines for disposing of yard waste. They ensure environmentally responsible disposal of your waste, whether it's through composting, mulching, or proper disposal at designated facilities.
Safety: Yard waste removal can involve heavy lifting, handling sharp objects like branches, and operating machinery. Professionals are trained to handle these tasks safely, reducing the risk of accidents or injuries.
Equipment and Tools: Junk removal services have the necessary equipment, such as trucks, loaders, and chippers, to efficiently handle yard waste removal. This eliminates the need for homeowners to rent or purchase expensive machinery for a one-time task.
Cost-Effective: When you consider the time, effort, equipment rental costs, and potential disposal fees, hiring professionals can often be more cost-effective than attempting to manage yard waste removal on your own.
Comprehensive Service: Professional junk removal services can handle a wide range of yard waste, including leaves, grass clippings, branches, tree stumps, and even bulky items like old furniture or appliances that may have accumulated in your yard.
Time Savings: With professionals handling the job, you can focus on other tasks or activities, making the most of your time while the yard waste is efficiently removed.
Reduced Environmental Impact: Many junk removal services prioritize eco-friendly practices, such as recycling yard waste or mulching it into useful materials. This reduces the environmental impact of yard waste disposal.
There are still more benefits…
Health and Hygiene: Yard waste can attract pests, become a breeding ground for mold or fungi, and create unsightly conditions. Prompt removal by professionals helps maintain a healthier and more hygienic outdoor space.
Peace of Mind: Your yard waste will be handled efficiently, safely, and in compliance with local regulations, giving you peace of mind.
Customized Solutions: Junk removal services can tailor their services to your specific needs. Whether you have a small pile of leaves or an extensive yard cleanup project, they can adapt their approach accordingly.
Quick Scheduling: Many professional junk removal companies offer flexible scheduling, allowing you to choose a convenient date and time for your yard waste removal.
Insurance Coverage: Reputable junk removal services typically carry insurance, providing liability coverage in case of accidents or damage during the removal process.
Post-Removal Cleanup: After removing the yard waste, professionals often clean up the area, leaving your outdoor space in a tidy condition.
12. Maintain Regular Yard Maintenance
Preventing excessive yard waste accumulation in the first place is key to easier end-of-summer cleanup. Regular mowing, pruning, and cleaning as the seasons change will reduce the workload when summer ends.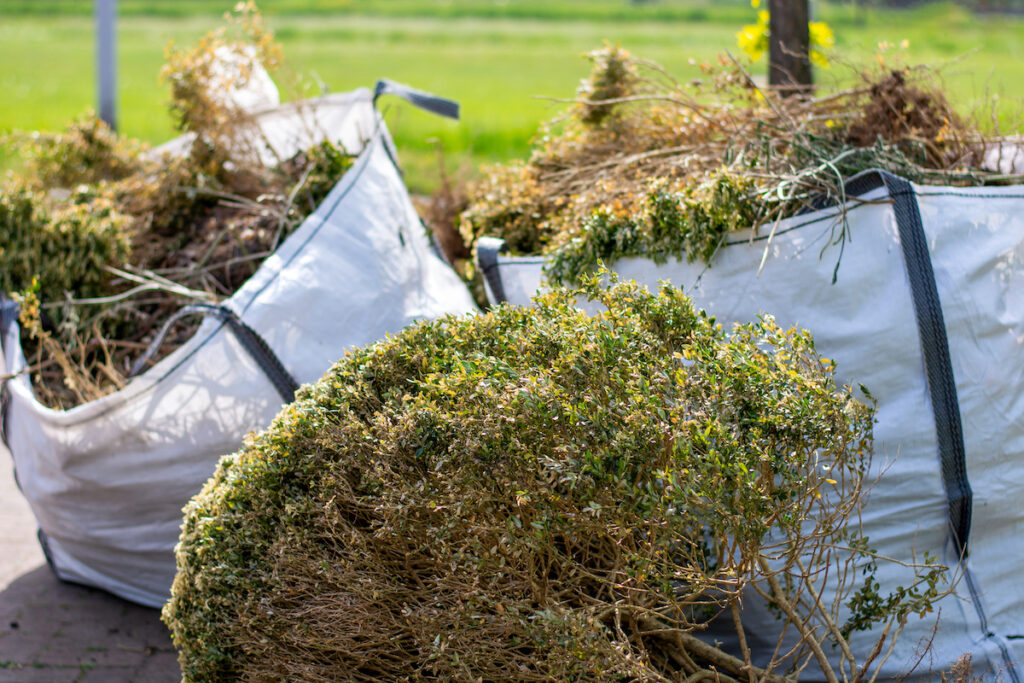 Get a Head Start on Your End of Summer Yard Waste Removal
End-of-summer yard waste removal is a critical task that not only enhances the appearance of your outdoor space but also contributes to the health of your garden and the environment.
By planning ahead, using the right tools, separating waste, and utilizing eco-friendly disposal methods like composting and recycling, you can efficiently manage yard waste and maintain a clean and tidy yard. Remember that involving your family and following safety precautions can make this chore more enjoyable and safer for everyone involved.
If you need help with yard waste removal, give our team at Just Rubbish Removal a call! We'll help you get the summer waste out so you can enjoy the space this fall!