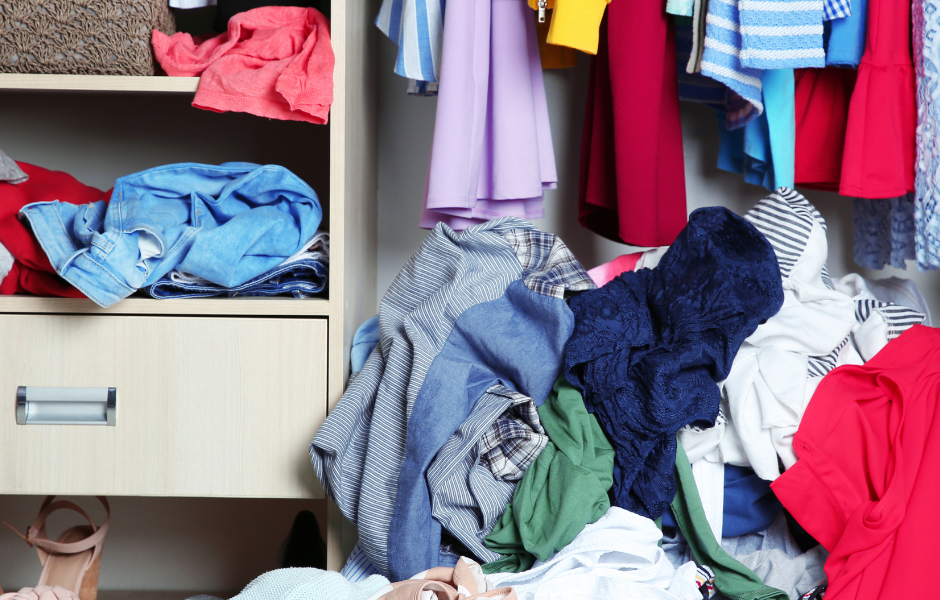 It is a new year, right? And if you are like most people, those sweatpants, yoga leggings, and comfy clothes have piled up. So maybe, just maybe, it is time for a closet cleanout in 2022. Lighten your load, organize your routine, and get ready to start the day by getting dressed in a closet that is not a disappointment.
Because, whether you know it or not, a cluttered mess follows you into your day emotionally and physically. What do we mean by that? Keep reading to find out how a closet cleanout can help you start the new year out one step better.
The Health Benefits of a Closet Cleanout
There is evidence that a clean home is less stressful. Or let's put it this way. A cluttered life leads to frustration. And no one wants to begin their day as they look through the closet in frustration because they cannot find this or that to wear. It really sets the tone of the day.
Harness the control you have over your day by cleaning out your closet. This way, you will start out the morning feeling less anxious and more in control.
Studies conducted by Cornell and Princeton found that people who live in messy homes are more likely to eat more junk food and care less about their health. Now that person has carried the stress of the morning into the lunch and dinner hour. Not to mention, these people living in disorganization are less productive in their day, feel more stressed, and have much higher anxiety levels.
That is why at Just Rubbish Removal, we are on a mission to help people get rid of the junk and clutter in their lives and live a more clutter-free existence. Now let's dive into how to get started with your closet cleanout in 2022.
Setting Goals for Your Closet Cleanout
The first thing any expert would advise you to do when cleaning out any area is to set goals. Yes, we know, it is just cleaning. But when the job seems insurmountable, a well-laid out plan can help ease the stress of the job ahead. Here is what we mean.
When the closet cleanout is done, you should…
Feel powerful and confident in what is left in the closet.
Have created more outfits with fewer items.
Fit in everything in your wardrobe.
Love each piece when you look in the mirror.
Be able to put together great outfits in a matter of minutes.
Finally, all that stays in your closet should represent who you are and what you want to say to others about who you are. Be true to yourself when you clean out that closet and decide what to keep.
When your mindset is to start off your days in a positive place, you do not need to see all those items you cannot wear right now. That will only depress you. If you have put on a bit of weight and want to keep a few pieces of clothing that will fit later, go ahead and box them up. Then you can treat yourself when you fit in them again. Otherwise, donate them so someone else can enjoy the items and you are more stress-free.
Prepare to Clean Out Your Closet
Now, the next step to a successful closet cleanout is to know what you will need and have it readily available. Here are a few things you may want to gather for your day of cleaning the closet.
Garbage bags for clothing you want to throw out due to the condition of the items
Boxes or bags for any clothes to donate
Uniform hangers, so there is a calming look in the closet – You would be surprised how much this helps.
The vacuum or a broom to sweep out the floors when they are clear
Now you are ready to stage out areas for the piles you will make. You will need a place to put keep, donate, and trash piles. A suggestion would be to section off the floor with painters' tape or place sheets down to define areas.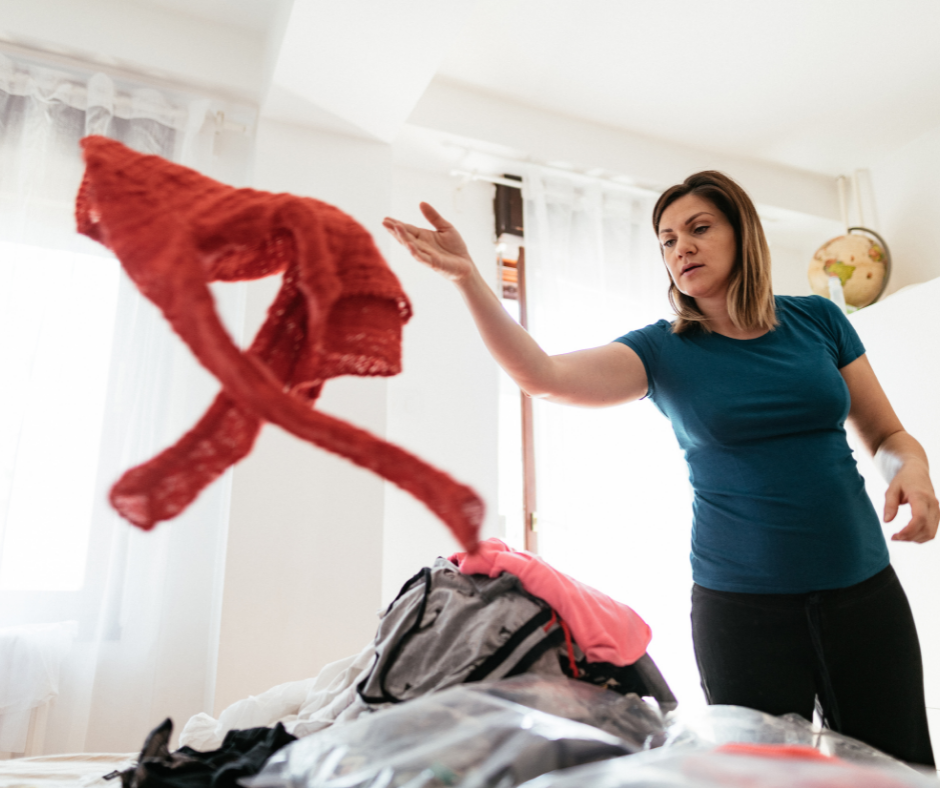 The Best Way to Clean Out Your Closet
Make cleaning out the closet fun or as much fun as it can be. Turn on some great music, bring nearby a mirror if you have one. That way, you can try things on immediately. And wear something that is easy to take off or slim enough to put clothes over when trying on so many items. Now, DIVE IN!
The best way to clean out your closet includes asking yourself a few more questions. With each item you pull out, ask yourself these.
Have I worn this in the last year?
Does this piece fit, and is it comfortable?
Do I even like this one?
Is it in good condition?
What does this item of clothing say about me?
Do I have a need for this piece of clothing?
Now, pull out each piece one by one until the closet is empty.
Ask yourself questions 1 – 6 above.
Then choose which pile it goes in and move on.
*Pro-Tip: Try not to go back through the piles when you are done. Just take the piles you are not keeping to the trash or the car, and do not second guess yourself.
Placing Clothing Back in the Closet After a Closet Cleanout
Once everything is in a pile, take the items you are not keeping out of the room. Then sweep out the closet, so it is fresh for the clothes to go back in.
Now is the time when you section off your closet. You can sort clothes by color, by activity, or by type. That is up to you. Some people like to sort clothes in rainbow order, so they know just where to look for a blue top or black jeans. Others like to sort by event clothing, work clothes, and casual attire. Still, others want all the tank tops in one place, the long sleeves, pants, and dresses in another. You get the drift.
*Pro-Tip: Place uniform hangers only back into the closet. And be sure they are facing the same direction.
Once the closet is back in order, you deserve to celebrate. Oh, and one more thing…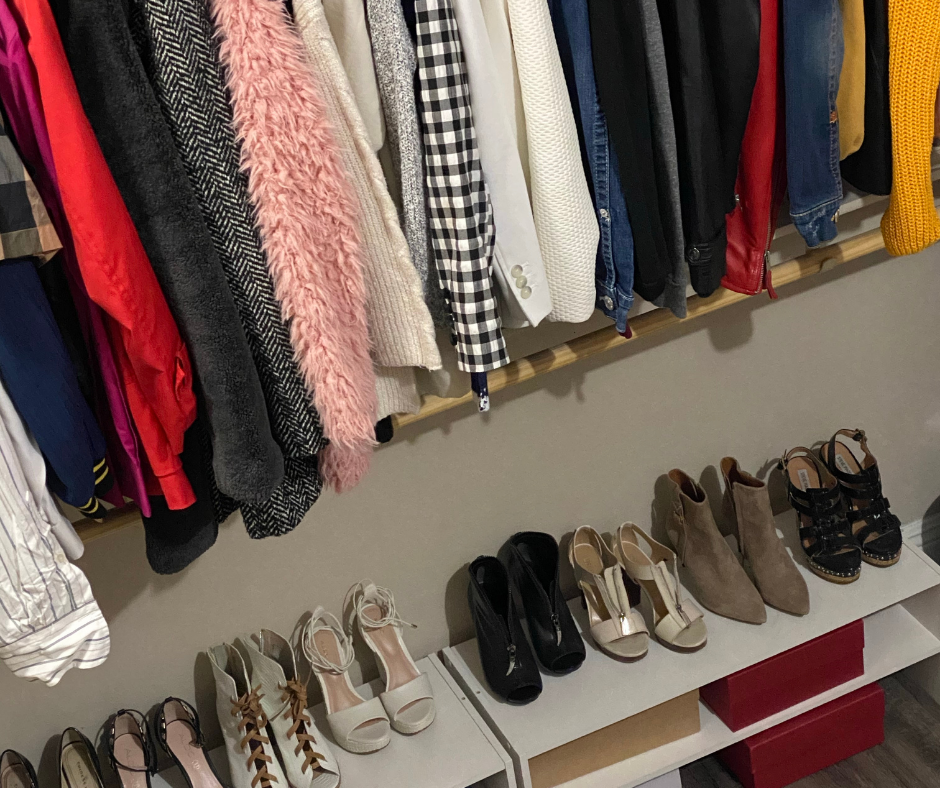 Haul Away the Closet Cleanout Leftovers.
Remember those piles for donation and trash you took out of the room? Now is the time to deal with them.
Good news! Just Rubbish Removal provides a convenient Curbside Pick Up for your home or business. All you need to do is contact Just Rubbish Removal in NYC to schedule a pickup. We'll take care of the rest.
**Bonus: Curbside Pick Up can be completely contactless. 
If you need junk pickup with ease and contactless service, this is the option you are looking for. What's more, you can pay by phone! No need for credit card hand-offs and the like. We work hard to ensure our services meet all your needs, even in times of quarantine.
The pickup process is quite simple; here is what Curbside Pick Up looks like.
Choose Just Rubbish Removal for your Curbside Pick Up in NYC and the surrounding service areas.
Determine the items you no longer need and be ready for the day of pick up.
Our driver will contact you for payment by phone.
Set the bags and boxes in the designated area on the scheduled day and forget it!
Just Rubbish Removal for Curbside Pick Up After Your Closet Cleanout
After leaving your home or office, we identify the items from your junk removal pick up to donate and/or recycle.
Our goal is to keep as many things out of our landfills as possible. After dropping those items off at local charities and recycling centers, we head out to the local transfer station.
You can count on the service Just Rubbish Removal provides in Curbside Pick Up for New York and the surrounding area. We are the top junk removal company for a reason.
Contact us today to schedule your time for closet cleanout Curbside Pick Up!