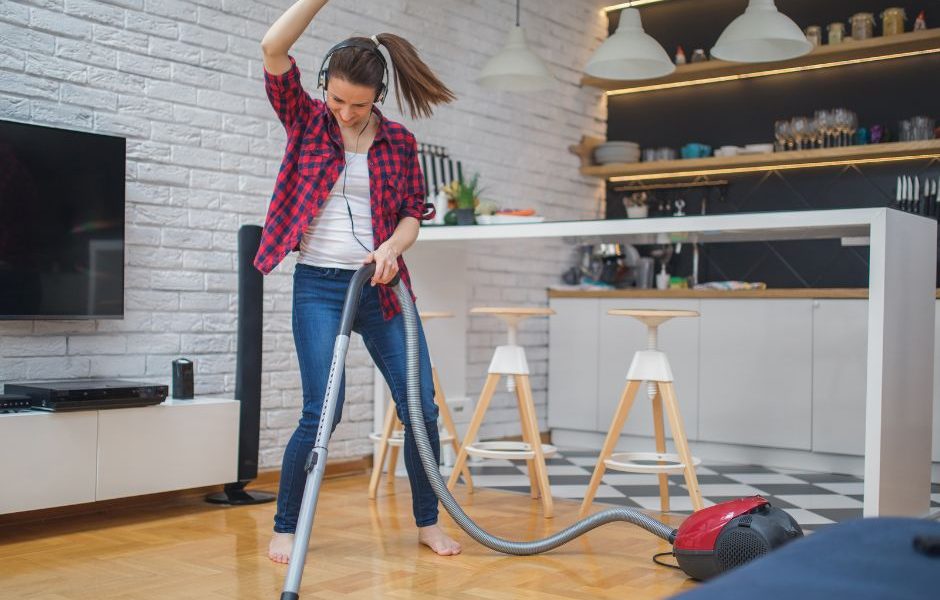 Now that the craziness of the holidays is over, it is time to get your home back in shape with spring cleaning tips by Just Rubbish Removal. The New York wintertime brings a lot of mess into our homes. Family, friends, and more items must be stored away in your house– not to mention the salt, snow, and sludge. Every year, time seems to go by faster, so follow these tips to prepare your house for spring cleaning– because it will be here before you know it.
Steps to a Successful Spring Cleaning
Winter is here. It is time to snuggle up by the fireplace with some hot chocolate and a good book. The holidays are over, and you deserve a break. Besides, you don't really want to go out too much when the snow begins. But spring is on the way, which means soon it will be time to shake off winter's coziness and start the Spring Cleaning routine.
That said, Just Rubbish Removal has put together some spring cleaning tips to get you ready when the time comes. And, if you are a planner, you will really appreciate getting prepared now while it is cold and sleepy outside. If you are not a planner, then curl back up, and we can go over this again in the spring.
Spring Cleaning Tips for New Beginnings
Remember the feeling that came from the global pandemic quarantine? It caused so many homeowners to reevaluate the item in their homes. Well, here we go again!
As you know, New York and other states faced a significant blizzard this winter. Like us, you and your family have been cooped up for some time, causing you to feel the need to start over and make substantial cleaning and decluttering changes.
Just Rubbish knows how important it is for a fresh start. We have all been stuck inside more than ever in the past few years. With more activity in your house during the wintertime and because of this blizzard, there are probably more areas you feel the need to clean than you would typically.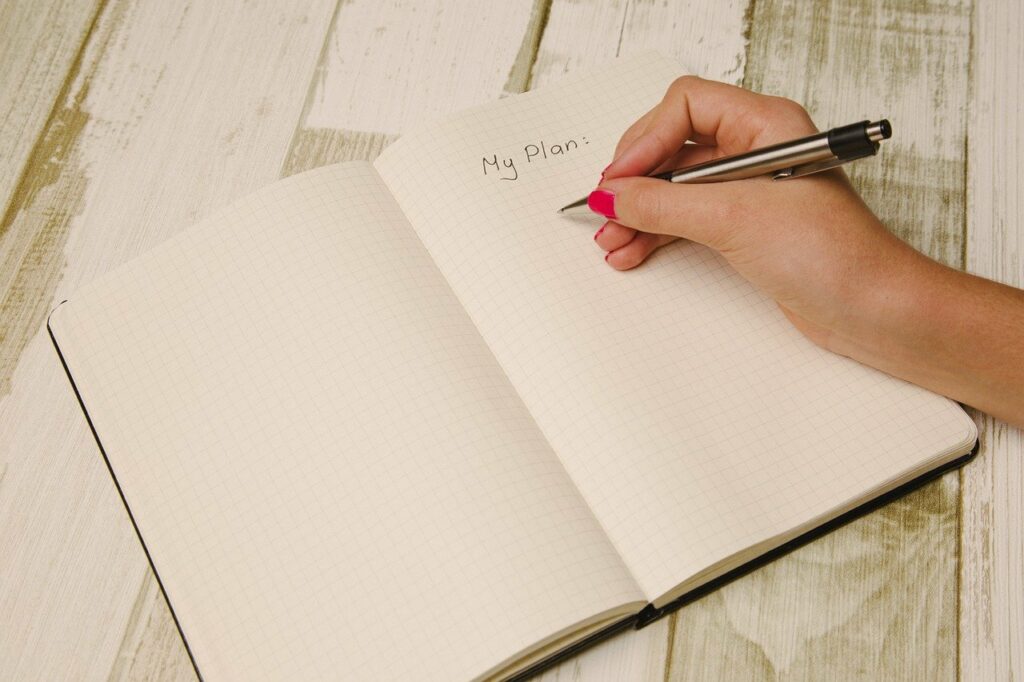 Your New Spring Routine
Suppose you're a person that's dedicated to this every-year commitment of spring cleaning. In that case, you know how different the process can be from your everyday chores. Or if you're someone that likes to deep clean every two to three months, that works differently as well.
Spring cleaning is more than a quick dust and vacuum. This is where you look deep into your house and clean the things you wouldn't do daily.
If you feel motivated and ready to clean, these tips will be helpful for you. On the other hand, if you find yourself overwhelmed, this is also a great place to start. A lot of people feel overwhelmed by the daunting job ahead, so don't feel alone in this process. Follow along with these tips from Just Rubbish Removal; we are here for you.
Six Essential Cleaning Steps
Step One: Set Goals & Make a Plan
If you're a person who loves to clean, you are most likely already planning or have slowly started to clean. But if not, that's okay too. Organizing your plans will help you focus so you can make the most out of spring cleaning.
With that being said, grab a notepad, tablet program, or a dry-erase board so you can write down the following:
Think about the different areas in your home that bother you, and think about what's in those spaces that you want to declutter.
As you go through the spaces in your home, write down the things you need to repair.
List each room and then the goals you have for them next to the title of the room.
Set a specific location in your house for items that you want to donate or sell. We suggest an area close to your front door, so you don't forget about them.
Going room to room can be made easier by carrying a cleaning bucket with you that has all of your cleaning supplies and rags.
Make a note of the areas in your house that need to have a deeper cleaning, like, bleaching or pressure washing.
Step Two: Take It One Room at a Time
It can be frustrating to clean the surface of your home and feel like you did a lot of work for little result.
It always seems to go like this, you get the laundry folded, and then someone goes searching through the piles. You scrub your floors for your child to come in and start making themselves a snack, causing a huge mess. You finish vacuuming the carpets the dog goes in and rolls around, getting their fur everywhere.
But focusing on one room at a time for decluttering and purging will increase focus on your main objective for each room. If you start early with a plan, you will enjoy a successful spring cleaning and reach your end goal.
Then, at the end of the day, step back, look at the room you focused on, and feel accomplished.
Another benefit of focusing on one room at a time is noticing the little things you don't typically see daily. You may see handprints on the wall that need to be wiped off, baseboards that really need to be dusted, or a ding in the wall where the door constantly hits. Those items should be repaired and cleaned immediately or added to your lists.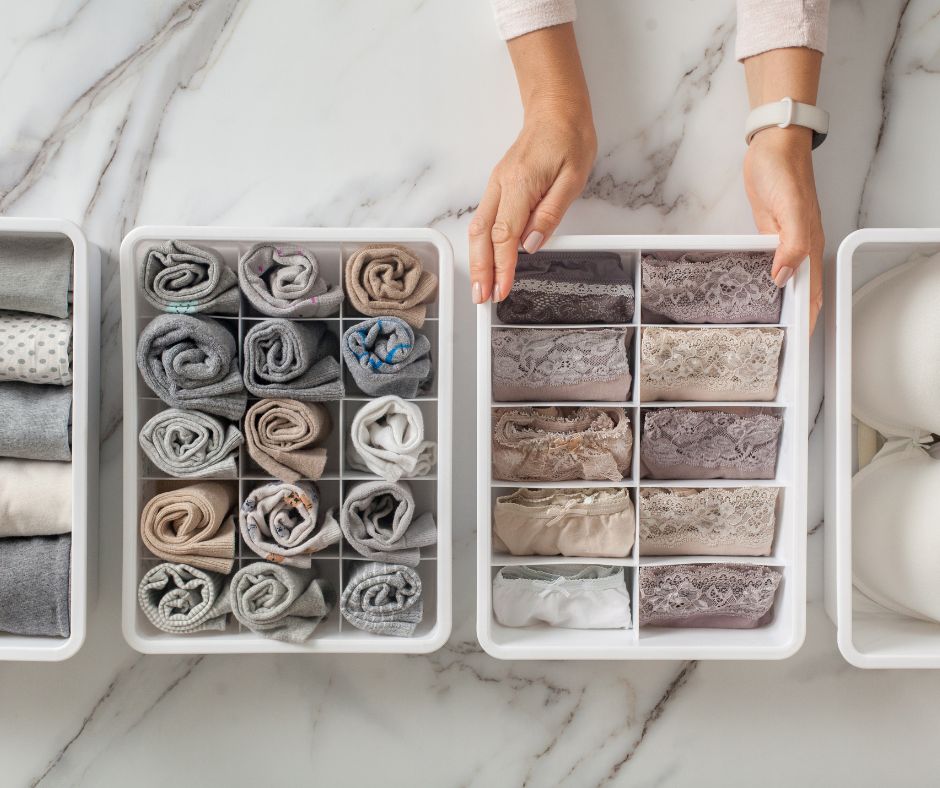 Step Three: Spring Cleaning Declutter
When you can't see everything in the room, it is hard to know what needs to be cleaned. So, to start, get rid of what you don't need anymore. Here are some tips for a spring cleaning declutter for the home's individual rooms.
In The Kitchen:
Start from the top of the room and work your way down. Go through your pantry and cabinets, including your refrigerator. In all those areas, you'll want to get rid of expired food or any food you wish to donate. Then give them a good scrub down and return the things you keep.
See if there are any utensils, pots, or pans you use sparingly or would like to get rid of in your cabinet. Do you need all of those _______? (fill in the blank.)
A good rule of thumb when it comes to pots and pans; get rid of anything that you haven't used within the last six months.
For Your Bathrooms:
The first thing to start with in your bathroom is the cabinets– they tend to harbor all sorts of dust and things we stuff in to get them out of the way.
If there's anything in your cabinet that you don't use on a regular basis, go ahead and get rid of it. Decluttering will help you keep your space clean regularly. Cleaning out your cabinets also gives you the opportunity to rearrange and begin with a fresh start.
Each Bedroom:
When you start to clean your bedroom, begin with things that are high on shelves or under your bed. Afterward, move to your nightstands, dressers, and your closet. Whatever you have found hidden away that you forgot about, go place it in the trash or the donate/sell pile.
Once you separate the things you don't need anymore, you can start a deeper cleaning of that space.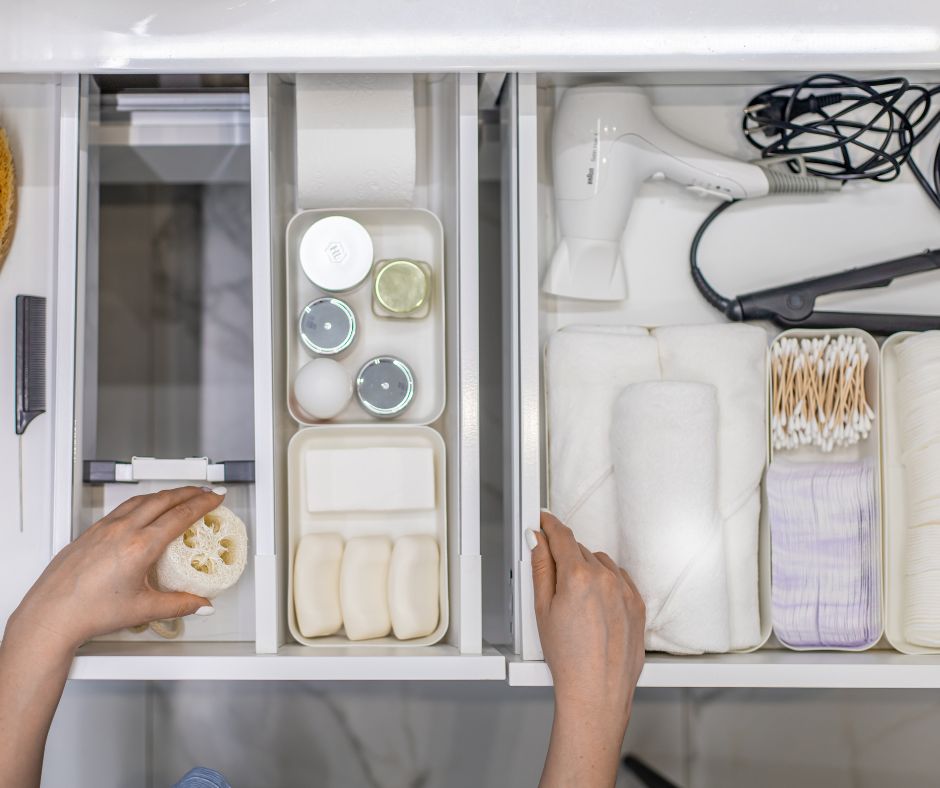 Step Four: Work From Top to Bottom
When you start really cleaning the rooms that you have decluttered, it's best to work from top to bottom. For example, dusting the top of your fan and letting it fall onto a dirty floor is a lot easier than cleaning your floor and then dusting your fan and then cleaning your floor again. This tip will also help you remember all of the things to clean, so you're not scattered around the room.
Step Five: The Front Porch and the Backyard
Having a fresh entryway can really change the way you view your home. It's honestly a great place to start your spring cleaning. Make sure you throw away worn-out door mats, trim down overgrown plants, and sweep up your sidewalk and driveway if you have one.
Step Six: The Forgotten Steps
A lot of people get so focused on each room in their house that they forget about the other things that need to be cleaned. Remember to change out your water filters and your air filters, give the inside of your vacuum a good clean, clean inside of your oven, check your AC vents, replace light bulbs, and shake out or wash your area rugs and curtains.
How About an All-New Room?
There is the all-important question of whether that room works for that particular purpose any longer. Has an older child moved out? Is your laundry room becoming a storage shed? Do you need a home office or a schoolroom? These are all excellent questions to ask yourself when going through the items in a room.
You can re-purpose rooms to accommodate what you have going on in life at the time. Does the dining room need to become an office? Perhaps the garage is now going to be your teen's band practice room. If that is what you need, de-clutter to make it happen.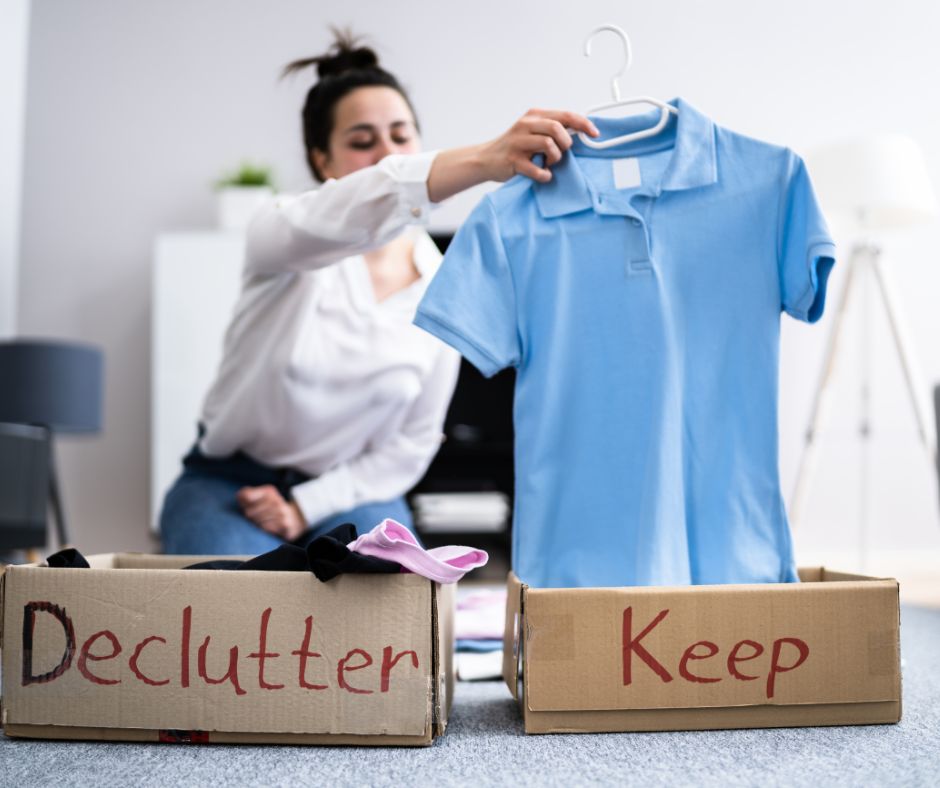 Spring Cleaning Tips: What's Next?
Okay, so your rooms are de-cluttered and clean, and you are happy as a lark. But there are three piles in the hall or garage that must be dealt with. So what do you do?
This is where the friendly staff at Just Rubbish Removal comes in and saves the day. You see, you are in luck! Just Rubbish removes more than trash. Let us haul away the trash, junk, and rubbish. Then you can fill our truck with donatable items, and we will take them to the appropriate places. The final pile is yours to deal with. The give away pile goes to those in your family or friends that could use these items. Other than that, you are in an all-clean home.
In one fell swoop, Just Rubbish will come in and remove all you don't have room for or want anymore. If it is broken, we will take it. If it is in perfect condition, we will donate it. Large or small, we remove rubbish from your home.
For a full list of rubbish removal services, take a look here.
If you live in Brooklyn, Queens, Bronx, Manhattan, or Staten Island, the Just Rubbish crew will come to you with an empty truck and haul it all away. Contact us today to get an estimate for your junk removal, and then relax. You have done a great job with your spring cleaning. Grab a glass of lemonade and have a seat.