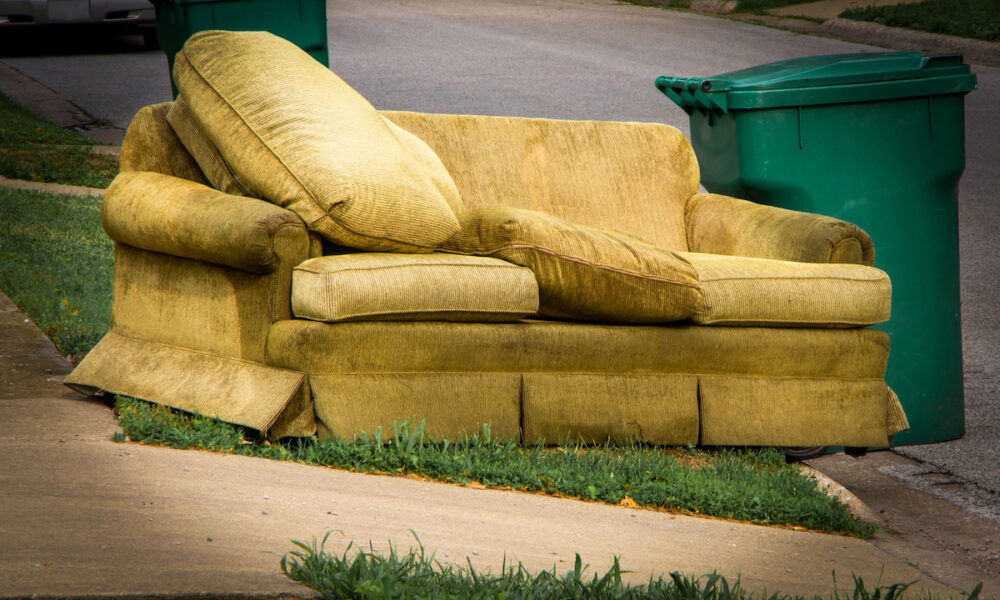 Moving homes or simply decluttering your living space can be both an exciting and daunting task. Home furniture removal is a crucial part of this process, and when done efficiently, it can make the entire experience smoother and more satisfying.
Whether you're downsizing, renovating, or relocating, the following tips will guide you through the furniture removal process, helping you create a clutter-free and organized living space. We'll also take the opportunity to point to working with a junk removal service as an easier route.
Let's begin!
Master Your Home Furniture Removal with These Tips
1. Figure Out What to Keep and What to Remove
Before diving into the furniture removal process, take some time to assess your belongings and determine what you truly need and want to keep. Consider factors such as:
The size of your new space
The furniture's condition
Its relevance to your current lifestyle
Items that are outdated, broken beyond repair, or no longer serve a purpose should be considered for removal.
2. Create a Furniture Removal Plan
A well-thought-out plan will save you time and energy during the furniture removal process. Start by creating a list of all the furniture pieces you want to remove, along with their dimensions. This list will help you determine whether you need to disassemble certain items for easy transportation.
You should also think through any large or heavy pieces that may require extra assistance or special equipment for safe removal. Do not try to move heavy pieces on your own.
3. Donate or Sell Unwanted Furniture
Before resorting to disposing of your unwanted furniture, explore options to donate or sell them. Many charitable organizations gladly accept gently used furniture, and it can benefit someone in need.
Alternatively, you can try selling the furniture through online platforms or local classifieds to recoup some of your investment. Yard sales are another option if you have enough items to get rid of.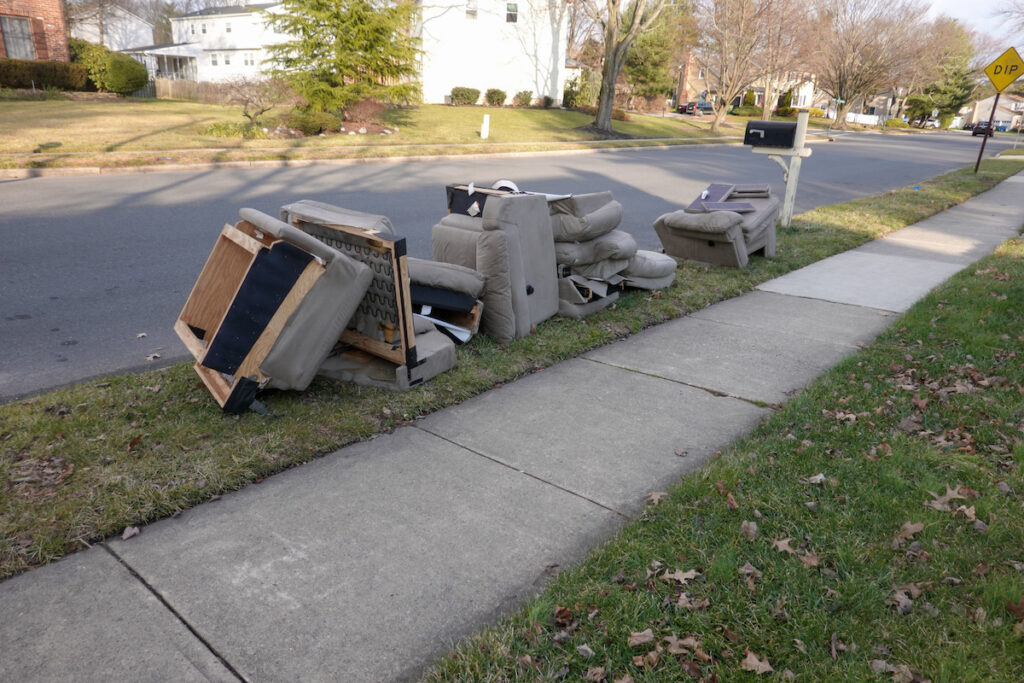 4. Arrange Professional Furniture Removal
For a hassle-free experience, consider hiring a professional junk removal service like Just Rubbish Removal. Our experienced professionals can efficiently handle the disassembly, packing, and transportation of your furniture. We have the expertise and equipment to maneuver large and heavy items safely.
If you decide to opt for another service, make sure you opt for one that is:
Licensed
Insured
Environmentally conscious in its disposal practices
5. Disassemble Furniture for Easy Removal
Disassembling furniture can make the removal process significantly easier, especially for larger pieces like beds, tables, and cabinets.
Take photos or make notes during the disassembly process to ensure smooth reassembly later. Keep all small parts, screws, and nuts in labeled bags, ensuring they don't get misplaced during the move.
6. Protect Your Furniture During Transport
Protecting your furniture during transport is essential to prevent damage. Use moving blankets, bubble wrap, or furniture pads to cover delicate surfaces and edges. Secure these coverings with tape or straps to keep them in place.
For glass items like tabletops, use cardboard or special glass protectors for added safety.
7. Utilize Proper Lifting Techniques
Whether you're moving furniture yourself or assisting professionals, it's crucial to use proper lifting techniques to avoid injuries.
Bend your knees
Keep your back straight
Lift with your legs, not your back
If a piece of furniture is too heavy or awkward to carry, don't hesitate to ask for help or use a dolly or hand truck to ease the burden.
8. Prepare the Entryways
Before attempting to move furniture out of your home, ensure all exit paths are clear and obstacles are removed. Measure the furniture and doorways to confirm it will fit through without any issues. If needed, remove doors from hinges or take off any protruding parts that could obstruct the furniture's passage.
9. Dispose of Unwanted Furniture Responsibly
If some furniture pieces are beyond reuse or donation, it's essential to dispose of them responsibly. Improper disposal can harm the environment and may even be against local regulations.
Contact your local waste management authority or junk removal service to inquire about eco-friendly disposal options, such as recycling centers or facilities.
10. Organize and Assemble Furniture at Your New Location
Once your furniture has been successfully moved to your new space, take the time to organize and assemble it thoughtfully. Refer to the photos or notes you took during the disassembly process to ensure correct reassembly.
Organize your furniture in a way that maximizes space and enhances the functionality of each room.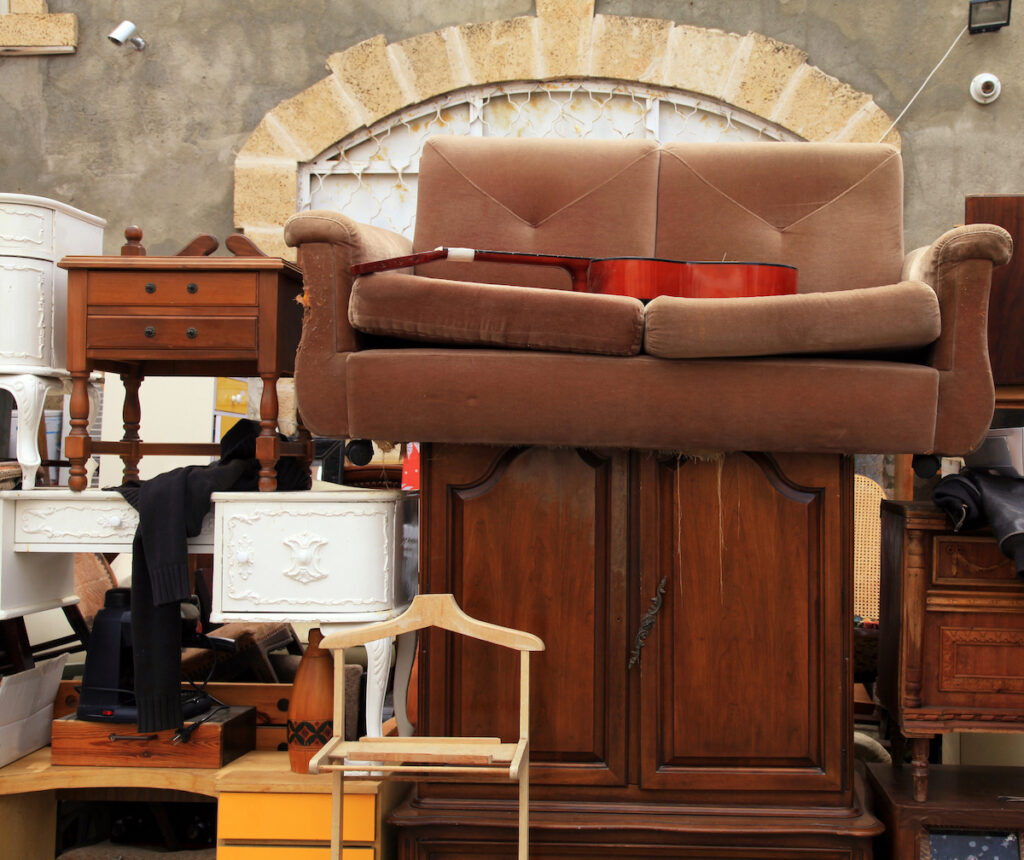 Why Choose a Junk Removal Service for Home Furniture Removal?
While some homeowners may consider handling home furniture removal on their own, working with a professional junk removal service offers numerous benefits that can make the process much easier and stress-free.
Here are some compelling reasons to choose a junk removal service for your home furniture removal needs:
1. Expertise and Experience
Junk removal service providers have the knowledge and experience to handle furniture removal efficiently and safely. Their teams are trained in proper lifting techniques and have the expertise to disassemble and pack furniture with precision. They can navigate through tight spaces and tricky corners, minimizing the risk of damage to your property and belongings.
2. Time and Effort Savings
Furniture removal can be a time-consuming and physically demanding task, especially if you have large or heavy items to move. By hiring a junk removal service, you free yourself from the burden of doing it all on your own.
The professionals will take care of everything, from disassembly and packing to transportation and disposal, allowing you to focus on other important aspects of your move or decluttering project.
3. Proper Equipment and Tools
Moving furniture often requires specialized equipment and tools, such as:
Dollies
Hand trucks
Furniture sliders
Junk removal services come equipped with all the necessary tools to handle various types of furniture. They ensure that your items are properly secured and transported, reducing the risk of damage to both the furniture and your property.
4. Safety and Liability
Home furniture removal can be physically risky, especially if you're not accustomed to heavy lifting or moving large items. By enlisting the help of professionals, you avoid the risk of potential injuries, strains, or accidents.
Moreover, reputable junk removal services are typically insured, providing you with added peace of mind knowing that you are protected in case of any unexpected damages during the removal process.
5. Environmentally Responsible Disposal
Many homeowners are now conscious of their environmental footprint and want to ensure that their unwanted furniture is disposed of responsibly. Junk removal services often have established partnerships with:
Recycling centers
Donation centers
Other environmentally friendly disposal facilities
They know how to handle different materials, ensuring that as much as possible is recycled or donated, reducing the amount of waste that ends up in landfills.
6. Efficient and Streamlined Process
Professional junk removal services are experts at streamlining the furniture removal process. They have well-organized teams, efficient protocols, and the ability to handle removals of all sizes and complexities.
This means that your furniture removal will be completed quickly and smoothly, allowing you to move forward with your plans without unnecessary delays.
7. Stress Reduction
Moving or decluttering can be an emotionally taxing process. By working with a junk removal service, you alleviate some of the stress and burden associated with the furniture removal task. They take care of the logistics, leaving you with a sense of relief and accomplishment as your space becomes clutter-free and organized.
Hiring a professional junk removal service for your home furniture removal needs offers numerous advantages that make the process more efficient, safe, and eco-friendly.
From their expertise in handling furniture to their proper tools and equipment, they streamline the process, saving you time and effort. Additionally, with their focus on environmentally responsible disposal, you can rest assured that your unwanted furniture will be disposed of in the most sustainable manner.
So, if you're planning a move or decluttering project, consider working with a reputable junk removal service like Just Rubbish Removal to enjoy a stress-free and successful furniture removal experience.
Call Just Rubbish for Your Home Removal Needs
Home furniture removal doesn't have to be a stressful or overwhelming experience. By following these tips, you can streamline the process and create a clutter-free and organized living space. 
Remember to assess what you truly need, donate or sell unwanted items, and consider professional furniture removal services for efficient and safe transportation. Take the time to protect your furniture during transport, use proper lifting techniques, and prepare the entryways to avoid any damages. Lastly, ensure responsible disposal of items that can no longer be used.
At Just Rubbish Removal, we understand the significance of furniture removal in decluttering and creating a fresh living space. Our team of experts is dedicated to providing you with a seamless and responsible furniture removal experience. We are located in Brooklyn, Queens, Bronx, Manhattan, and Staten Island.
Contact us today to learn more about our services and how we can assist you in achieving a clutter-free home.