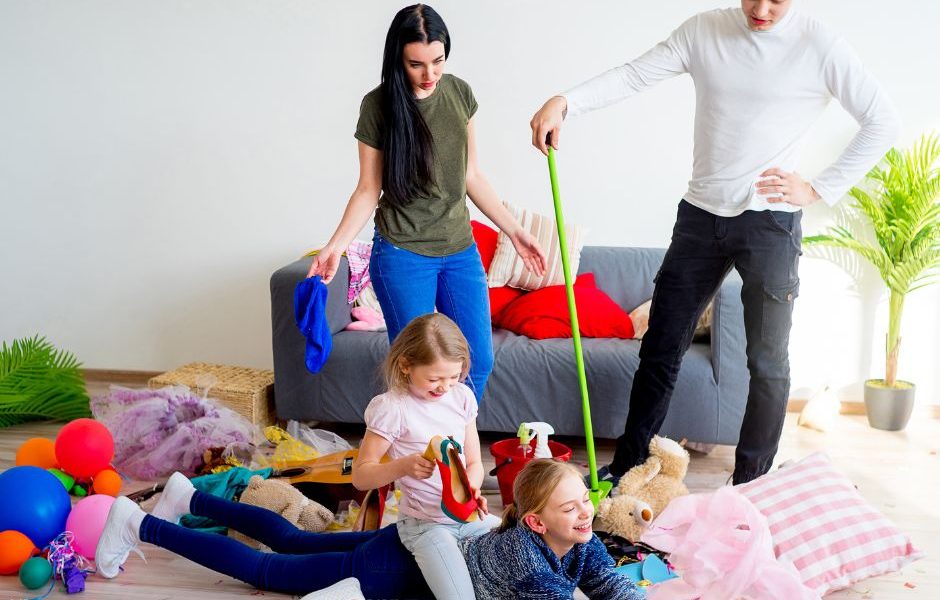 For some kids, cleaning isn't the end of the world. But for most, the last thing they want to hear is that they must finish their chores before playing with their friends or watching their favorite online shows. May we suggests room cleaning games?
You may wonder, "how in the world do I get my children involved in keeping the home tidy without a huge argument every time?" You are certainly not alone.
The solution for your family may be exciting room cleaning games! Put a thrilling and enjoyable twist on the most tedious and mundane chores by having a little fun along the way.
Below, Just Rubbish Removal discusses why fun cleaning games may be the cure to your dilemma. Plus, we give you six awesome ideas to make tidying up less hassle and much more entertaining.
Why Make Cleaning Fun?
We all know getting your kids to help tidy up around the house can be a challenge. Some parents receive the occasional grunt or sigh when reminding their children it's chore time. For others, their kids refuse ever to lend a helping hand.
What About Punishment and Reward?
You may be racking your brain for ideas to inspire your kids to get excited about helping around the house or keeping their room straight.
Maybe you've tried rewards and punishments. For example, when your child refuses to complete their daily chore, you take away their favorite toy or subtract time with their electronics. Or, if your child completes their weekly cleaning tasks, you reward them with a trip for ice cream or a fun family movie night.
This method may work for some kids. However, it isn't quite setting your little ones up for the real world they'll grow into one day. Ask yourself- Do you get rewards for tidying up the kitchen or taking out the trash? Or do you receive punishment when the floors remain cluttered?
Not really.
You may have a clearer mind or appreciate the sanitary space. Still, you don't genuinely receive a gift or have anything taken away in response to your cleaning efforts.
The Secret to Getting Your Kids Involved
Instead, you find ways to motivate yourself to keep your home tidy. For you, it may be having the chance to listen to a podcast or your favorite upbeat music. Because most young minds won't be able to grasp the true benefits of reducing clutter and keeping your living space clean, the best approach is to inspire them to enjoy the experience as much as possible.
How can you do this? With exciting, entertaining, and engaging room cleaning games! Not only are your kids finally helping around the home, but they are also learning a necessary life skill—to find the motivation to complete the mundane tasks and have fun while doing it.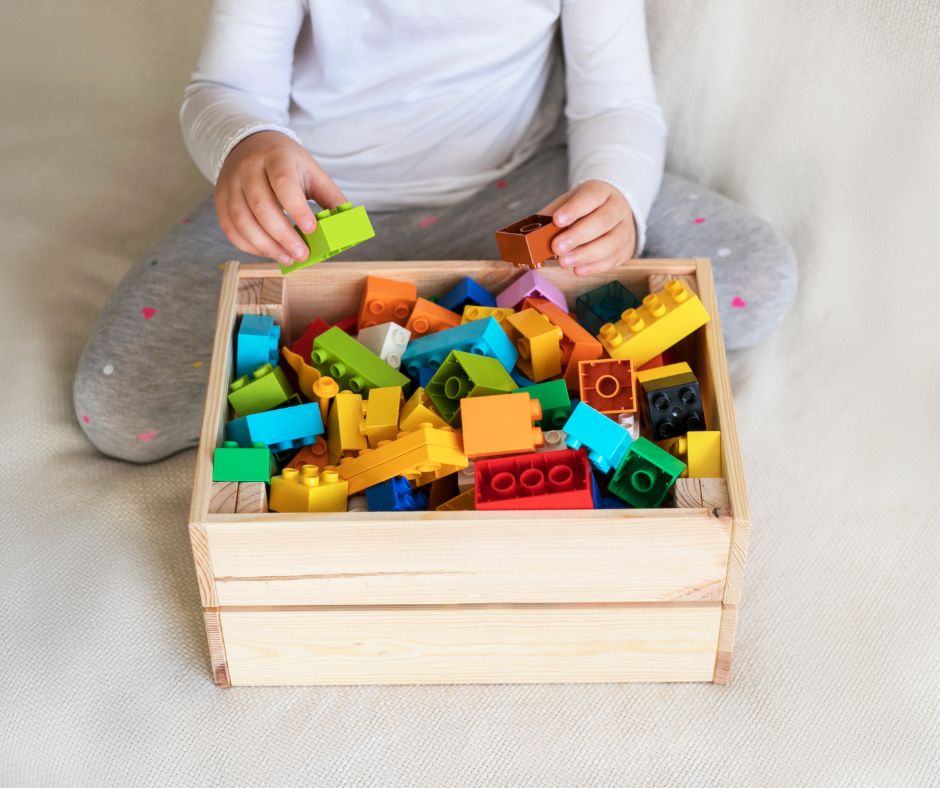 6 Room Cleaning Games for Families
Are you ready to get your kids excited about their weekly chores? Who wouldn't be? But before you dive into the following six innovative ideas for room cleaning games, there's just one more element to the process you must know. You, too, must be involved and have fun!
Children learn best by example, especially from trusted adults in their lives. Therefore, simply teaching your kids the game and leaving it up to them to be excited about it isn't always enough. Play with your children and show them how much they can enjoy cleaning!
Now, on to the top six thrilling and engaging room cleaning games for the whole family:
1 | Jenga Chores
Jenga is a fun game full of anticipation and gentle skill. Perhaps your kids already adore playing this game with their family and friends. If this is the case, you're off to an excellent start!
Grab an old set of Jenga blocks and label each wooden piece with the chores that need tackling. Then, have your children rotate turns, pulling the blocks to reveal their assignments for the week or month, depending on your chosen tasks.
At the end of the game, your kids have a small pile of cleaning tasks they will need to complete.
2 | Robot Room Cleaning Game
The robot room cleaning game is perfect for tidying up small spaces or completing quick chores. After a long day of playing in their room and making a hectic mess of toys, blocks, and dolls, motivate your child to enjoy straightening up their space by having them act like a cleaning robot!
Click the imaginary button on their tummy or nose, and say "activate cleaning robot" in an electronic-sounding voice. Suddenly, your child will transform into the cleaning bot you've always wanted. You can even pretend to have an imaginary controller in your hand—press a button and say "turn left" and "pick up" or "put here."
When they have finished cleaning, press the imaginary button once more to "shut down" the cleaning robot.
When your child uses their imagination to complete a task, they will enjoy it significantly more than if they feel it's work they must do.
3 | Play-Acting / Dress-Up
The play-acting and dress-up approach to cleaning offers endless possibilities! Have your child dress up as the house butler or maid. Or, get extra creative with acting as Cinderella or their favorite superhero, here to clean the home and save the day!
Help your child dress up in their costume and watch the magic unfold.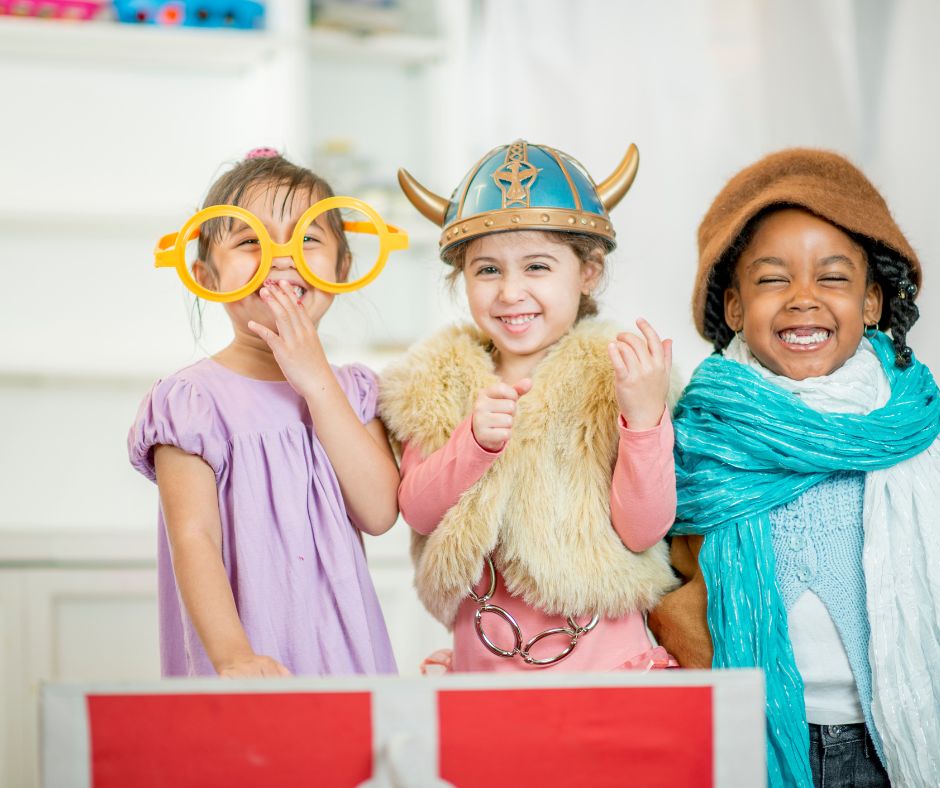 4 | Beat the Clock!
Just about any youngster will love this room cleaning game, and so will you! When it comes time to empty the trash bins around the house or declutter the living room floor, set a timer on your phone. You also may want to choose a loud and exciting buzzer noise to go off when the timer ends.
Line up your kids in one location of the home and say, "ready, set, clean!" Start your timer as the kids dash to their chores and show off their speedy skills in completing the task. The goal is to finish before the buzzer goes off and beat the clock!
5 | Clean-and-Freeze Room Cleaning Games
Are your children music lovers? If so, this game is perfect for your family! Determine what chore needs to be done and switch on their favorite upbeat playlist. Every minute or two, pause the song and have your children freeze in place. Once you press play again, they can unfreeze and continue their chores.
Keep repeating this fun room cleaning game until the task is complete. Your family is sure to be giggling all the way through!
6 | Your Family Cleaning Show
Today's kiddos adore videos—even better is when they get to be the star of their own homemade shows. Get extra creative and turn cleaning time into a famous family cleaning show!
You are the director and cameraman, and leave the rest up to your imaginative children. Ensure they know the one rule is not to get carried away with theatrics and ultimately complete their chore.
Prompt your kids by giving them ideas for introducing themselves and their top skills in tidying up. Or have them showcase specific cleaning techniques they have "perfected." Don't hesitate to add some humor or drama to make the show especially enjoyable for your kids.
Later, when you have some downtime, quickly throw together the video clips your family created. Present the family cleaning show to your kids to inspire them to keep up the excellent work! You can make it an exciting "movie night" by popping some popcorn in the microwave, turning down the lights, and snuggling up on the couch to view their silly and exciting cleaning show.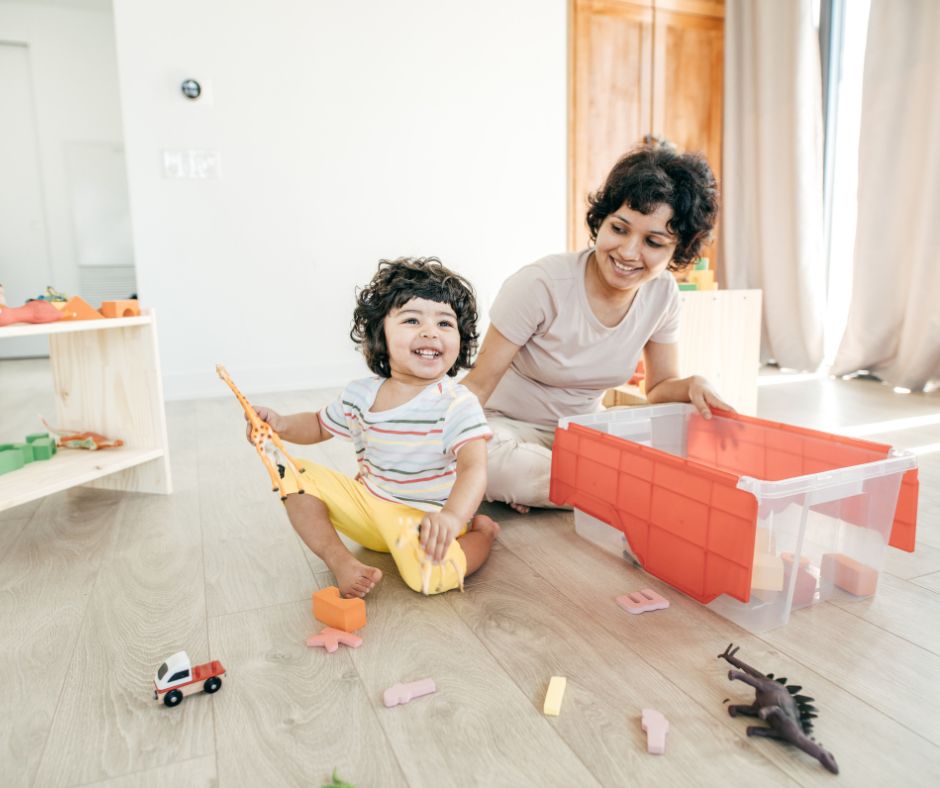 Just Rubbish is Here to Help with Room Cleaning Games and More!
When it comes to the more significant cleaning projects, like back-to-school cleanouts, it's not uncommon for more of a mess to be made before the major chore is complete. For instance, when cleaning out your child's closet, you may be left with a massive pile of junk that needs to be disposed of.
That's our specialty!
Hiring a professional junk removal team, like Just Rubbish, eliminates the piles of junk with little effort and no hassle.
What's more, we have convenient curbside pick-up services for especially busy families. Book a date and time online or by calling our friendly staff. Then, set your junk out by the curb on the set date, and Just Rubbish will take care of the rest.
Call on the team you can trust for all your junk removal needs, Just Rubbish Removal.