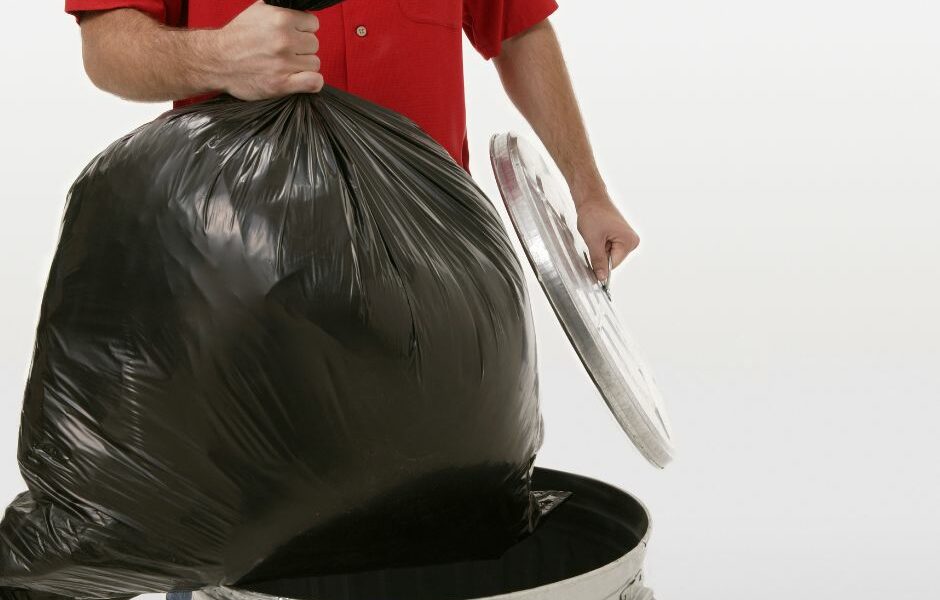 Taking out the trash is an essential task that can sometimes be a nuisance. It's easy to forget and allow your trash bins to overflow, causing several health concerns and overall clutter. No one wants this for their home.
Just Rubbish Removal gives you expert advice on managing your home's waste in the best of ways. Continue reading to discover the importance of keeping up with the trash and how to make this mundane task as simple as it can be.
The Importance of Taking Out the Trash Regularly
Taking out the trash on a regular basis will keep your home clean, organized, and stench-free. For most people, the biggest benefit of routinely disposing of your home's waste is getting rid of the putrid smell of an overflowing trash bin. However, the unbearable scent isn't the main problem- it's what causes it!
After reading through the following reasons you must prioritize it, you'll likely have far more motivation to schedule it into your routine.
Allowing your trash bins to overflow will attract all kinds of home-invading pests. Mice, rats, flies, and roaches are fond of filth. And because of the ample time they spend in nasty environments, they can transmit disease to you, your family members, and even your precious pets.
Salmonella and other bacteria grow rapidly. Sometimes in as little as a couple of hours. Your risk of food poisoning increases when food scraps are left to sit in the trash bin for too long. It's all too easy to come in contact with bacteria by brushing against your contaminated trash can without even realizing it.
If the above reasons to take out the trash aren't enough, perhaps the appearance of your kitchen will convince you. A trash can full of waste is an unsightly view, especially in a space where food is prepared.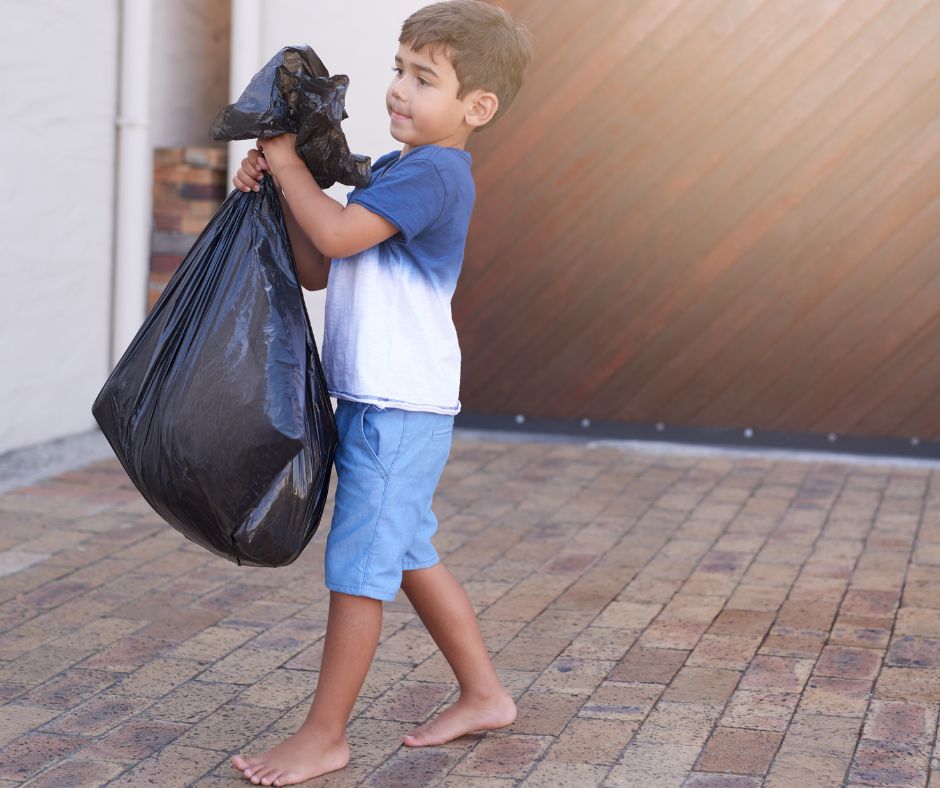 Tips to Keep Up with the Trash in Your Home
Even with something as simple as taking out the trash, we all need some advice from time to time. There are plenty of tips and tricks to managing your home's waste. In the following sections, we provide the top recommendations for getting on top of this necessity of modern life:
1 | Set a Reminder for Trash Day
Whether on your family's wall calendar or the convenient calendar on your smartphone, setting a reminder for your neighborhood's trash pick-up days can do wonders. You're not alone if you are constantly missing this critical date. With everything else we must keep up with in our daily lives, it's easy to forget.
Setting a reminder for the day before waste removal will ensure you get the chance to roll your trash bin out to the curb for the professionals to pick it up. And if you're more of a forgetful type, setting multiple reminders will serve you well.
2 | Reduce Your Home's Waste
One of the smartest and most efficient ways to keep trash cans from overflowing too quickly is to reduce your home's waste production. Here are a few things you can start today to decrease the amount of trash you're responsible for:
Use Cloth Bags for Grocery Shopping
Did you know Americans use about 100 billion plastic grocery bags per year? That's a lot of unnecessary plastic filling up the trash bin at home and making its way into our massive landfills. Instead, begin shopping with reusable cloth bags. You can purchase them from your local grocery store or online for relatively low costs. Better yet, use some random cloth bags sitting around the home. There are even online tutorials on making grocery bags from old t-shirts.
Buy Food with Less Packing
Next time you're shopping for your weekly groceries, take a good look around the store. Lining every shelf are products encased in plastics, cardboard, and other materials that will be immediately tossed when used.
Make an intentional effort to choose grocery items with less packaging, if any. One way you can do this is by collecting your produce from the open stands rather than the cold section, where they are pre-chopped and wrapped in plastics. However, the most efficient way is to visit more local farmers' markets. Shopping here will give you more opportunities to buy foods without excessive packaging.
Compost
Skip the microwave meals and begin making more meals from scratch. Yes, this means more food scraps to dispose of, creating a smelly trash bin. However, there is an excellent solution for this issue- composting!
You can go the traditional route by composting outdoors using a tin can. But there are incredible countertop composting bins that make it easier than ever before. They are compact to better fit near the kitchen sink. Plus, they're air-tight to keep any unpleasant smells from leaking through.
Then, use your compost concoction to fertilize indoor and outdoor plants or even your entire lawn. This is sure to keep waste from making its way into your trash cans and make taking out the trash occur less often.
Stop Buying Bottled Water
If you're buying bottled water, your trash bins at home are probably filling up too quickly to keep up with. Especially if you aren't recycling the bottles as you should, you're not alone. This is clear due to the 60 million plastic bottles ending up in landfills each day.
Simultaneously reduce how often you need to take out the trash, save money, and help the planet by no longer buying water bottles on a regular basis.
Buy Refillable Bottles for Cleaners and Soaps
Other bulky waste bin fillers are cleaner and soap bottles. If you're buying a fresh bottle of all-purpose cleaner each time you run out, switch to refillable containers. This saves significant cash with the opportunity to purchase refills for the container rather than paying for a brand-new fancy dispenser each time. Plus, it keeps your trash can from overflowing before you get the chance to take it out to the curb.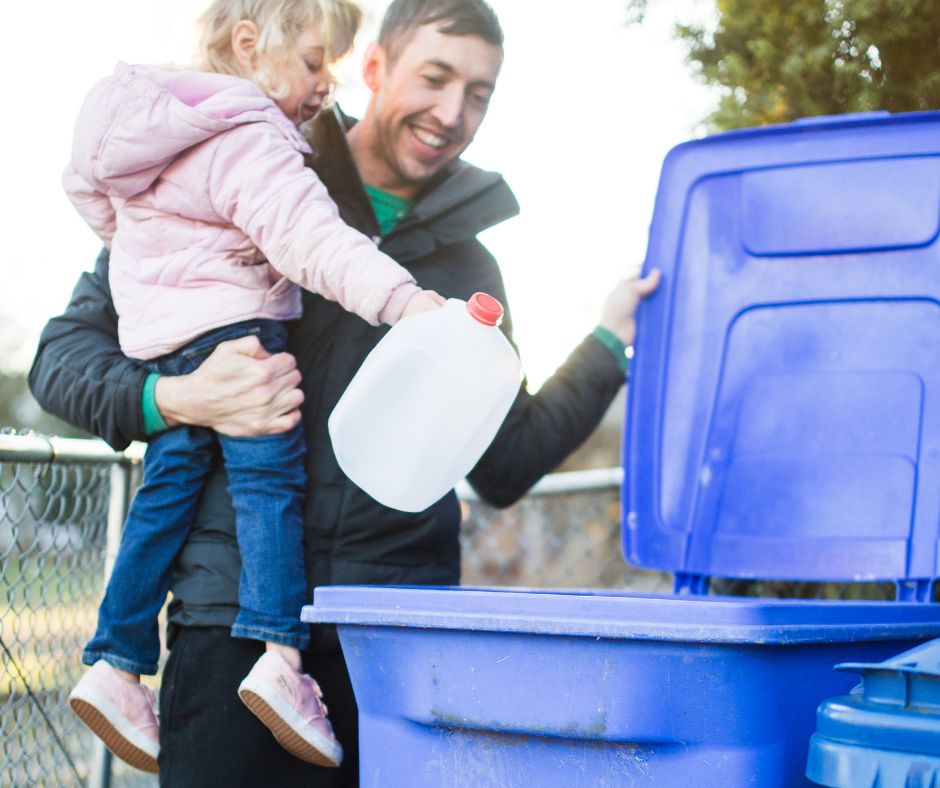 3 | Get Your Family On Board
Teamwork makes the dream work, right? And in this case, your dream is to finally keep up with taking out the trash consistently and efficiently. So, gather your, family and have everyone contribute to this routine chore. Here are some tips on how to get your family on board with taking out the trash:
Setting a Clear Schedule
No matter what age your children and family members are, everyone benefits from a scheduled routine. Making it clear when it is their turn to take the trash out will add predictability and responsibility to this challenge. The best thing to do is create a chart or mark it on your family calendar. Everyone gets busy and distracted by life, so remember to be flexible and forgiving. Friendly reminders go a long way.
Teach by Example
Show your family how easy and quick taking the trash out can be. To do this, you'll need to hold yourself accountable for your contribution to the effort and lead by example. Furthermore, for younger kids or stubborn teens, you may want to guide them through it the first few times.
Yes, it seems silly. How difficult is taking a few minutes to take the trash out? Just like with any new habit, guidance and patience pay off.
Create Rewards as They Learn
Not all parents agree with rewarding their kids for something they should be doing in the first place. However, if your kids are giving you a hard time completing this chore, little rewards may help.
Additionally, you can make it clear to your child that the rewards won't last forever. After they've gotten the hang of taking out the trash regularly, you can remove the rewards as long as they understand everyone in the household must contribute to necessary tasks. This brings us to our next point . . .
Everyone Needs to Contribute
Have a friendly conversation about responsibility and the contribution of each family member with your children. Of course, you'll need to cater the depth of the talk to their age and level of understanding. And they may not be convinced right away, so consistency is key. Continue to remind your family of the value of teamwork to accomplish things around the house.
Allow the Professionals to Help!
Congratulations on finally taking action to keep up with the waste your home produces! It's undoubtedly a simple task in basic terms. However, it can be one of the easiest things to either forget or push to the side because of our busy modern lives.
Suppose you're at the point where your home has become overwhelmed with trash. In that case, Just Rubbish Removal is here to help! We are experts at disposing of waste in the most efficient and effective ways. Our team would be glad to assist you in getting rid of the clutter you've found yourself in.
Never hesitate to reach out to Just Rubbish for all your junk removal needs.